This past Saturday was the first day of Summer, and what can be better in summer than grilling! And burgers! This Steak Burger with Whiskey Onions is a fabulous burger for all you meat lovers.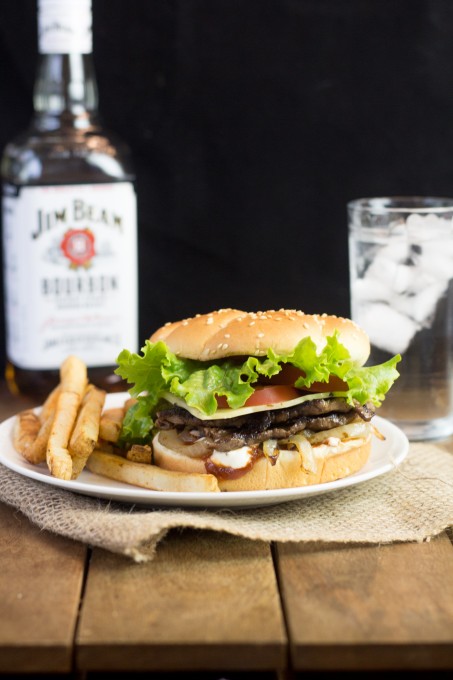 When we first moved to America, I though everyone was trying to pull a joke on me when they told me that Summer started in the middle of the month. In Australia, the seasons start at the beginning of the month. Therefore Winter began on the 1st of June. It makes working out the seasons easy, as winter is June, July and August – and so on. However, in America seasons are worked out by the solstice and equinox. Summer begins on the summer solstice, which this year was Saturday June 21.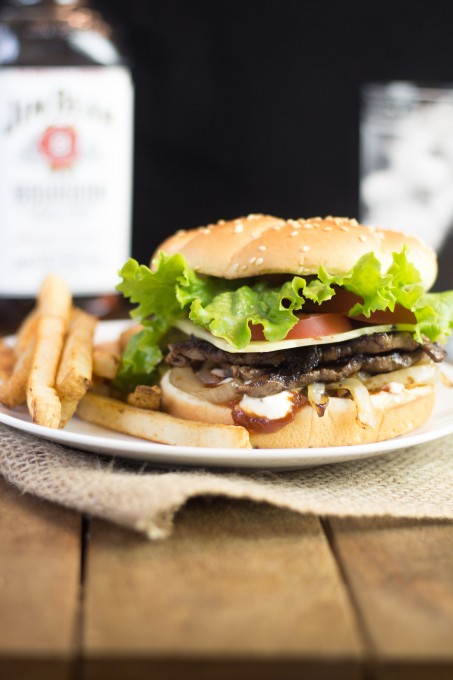 I was inspired by Red Robin's Whiskey River burger and an old favorite burger of mine – the steak burger. Really, the only thing in common with the Red Robin burger is the use of whiskey BBQ sauce! My main inspiration was my childhood memory of steak on a burger. As a kid, I remember having steak on a burger more often than a beef patty. Steak is cut much more thinly in Australia, so placing a steak on the grill takes little effort. In America, I have to ask for thin cut steak. All butchers will cut your favorite cut of steak to your desired thinness – but in my area (which is a major metropolitan) a real butcher shop is hard to find. I have one a suburb over, which I love and it's worth the effort to drive there. However, most supermarkets will sell very thin cuts of sirloin steak – I personally like mine slightly thicker but this will work too!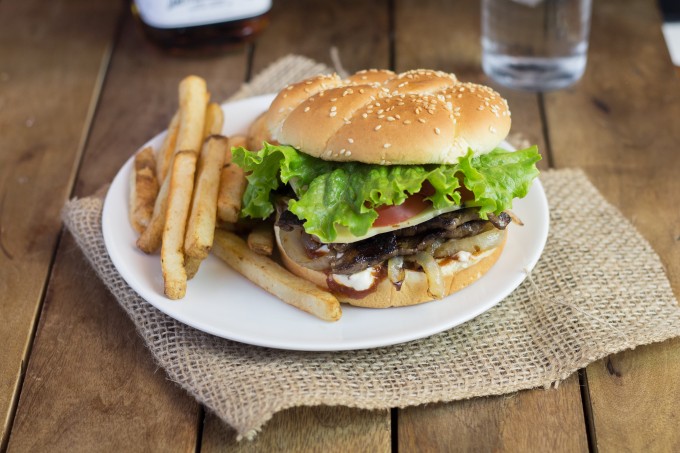 The onions, instead of having crispy onion straws, like the Red Robin burger, I decided to saute the onions in whiskey and butter. This is done just like regular sauteing, except that you add whiskey. It gives extra flavor and depth to the onions. From my research it appears that only a small amount of the alcohol content will evaporate during the cooking time, due to the short amount of time cooked. If this is a concern to you or your guests, you will need to skip the whiskey.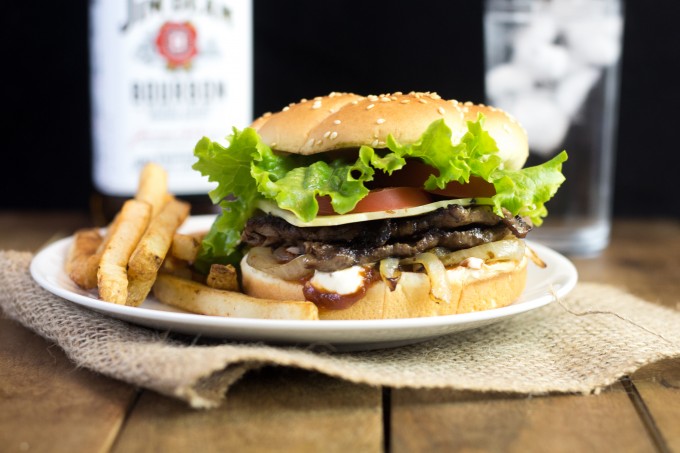 The next ingredient that really makes this burger stand out is the use of a Whiskey based BBQ sauce. I have used my own sauce but if you don't want to make your own, look for a sauce at the supermarkets which contains whiskey. I personally like the Jack Daniel's brand.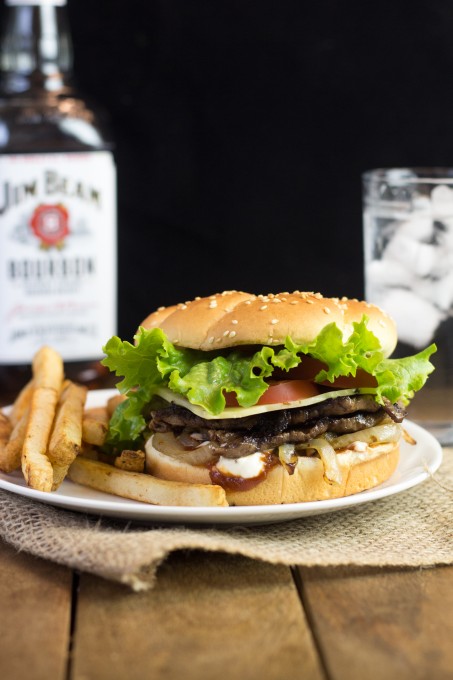 Steak Burger with Whiskey Onions
2014-06-14 23:21:18
Ingredients
2 lb thin cut top sirloin steak
bbq sauce
mayonnaise
cheese slices
tomato, sliced
lettuce leaves
Whiskey Onions
1 yellow onion, sliced and halved
1 tablespoon butter
1/4 cup whiskey
Whiskey Onions
Melt the butter in a saucepan, over medium heat. Add the sliced onion and the whiskey. Cook for about 8 minutes, or until tender and golden. Stir frequently.
Burgers
Preheat a well oiled grill or grill pan - oiling with either butter or vegetable oil. Sear the steak on one side, then flip the steak over and sear on the other side. For a medium well steak, you will need to cook the steak for about 2 minutes on either side.
To make the burgers, layer the bottom of the burger with bbq sauce, mayonnaise, onions, steak, cheese, tomatoes and lettuce.
Serve hot with fries.
Notes
If the steak has been in the refrigerator, let it sit at room temperature for 15 minutes.
Cookies or Biscuits? http://www.cookiesorbiscuits.com/