Chocolate Chip Cookies are classic American fare. Don't get me wrong, Australians do love these little cookies too, but they are no where near as popular in Australia as they are in America. A bakery in America would be remiss if they didn't sell chocolate chip cookies, whereas you may not always find them in an Australian bakery. This is not surprising given that they were first made in America.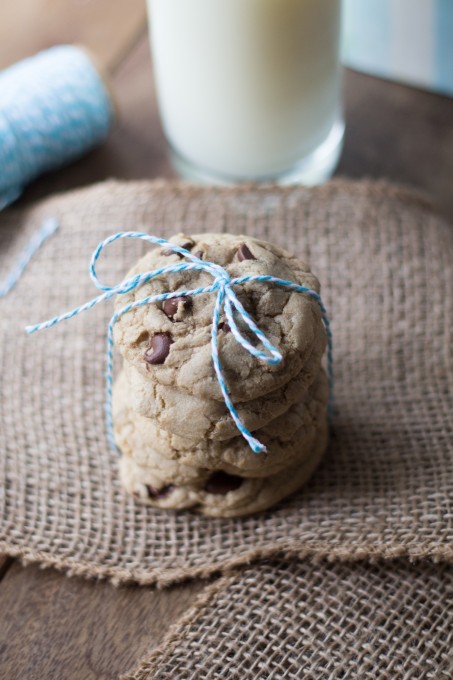 I love American chocolate chip cookies. They are nearly always soft and chewy. Most in Australia, that I've had anyway, are hard and crunchy – like Chips Ahoy. I took my Dad to a cookie shop one time while he was visiting, and he was not impressed with American cookies. His first comment was "I don't think they're cooked properly." When it comes to cookies, I've definitely become an America because I love soft cookies, oozing with chocolate.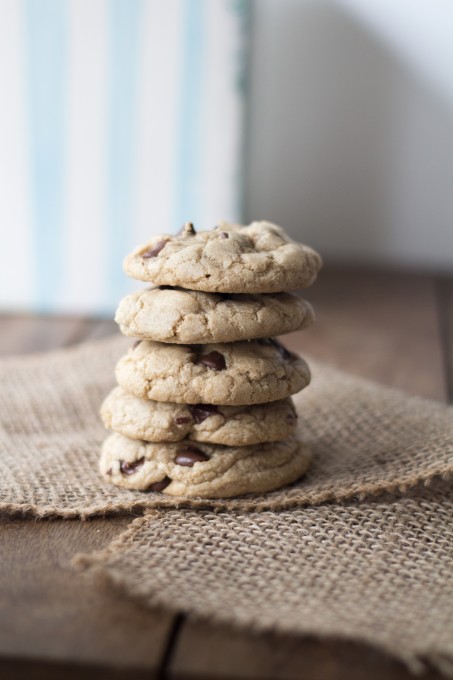 The cookies in these photos are gluten free – but I use the same recipe for both gluten free and regular flour. Its another recipe that adapts well to gluten free flour blends, such as Namaste Gluten Free Perfect Blend. (I really need to try and get an affiliate with them, as I love their flour!). Being a good Australian, my love will happily pass over chocolate chip cookies so I bake using either flour depending on his mood. They work well either way.
I've had very happy children this week, with these cookies in the house. They are a definite kid pick. In fact, it was my 10 year old and 5 year old who made these cookies with no help from me! She was the main cook, but the youngest did some pouring and mixing – and of course licking at the end. My daughter has made them a number of times before, but when I saw how well they turned out I decided to photograph them and share them with you.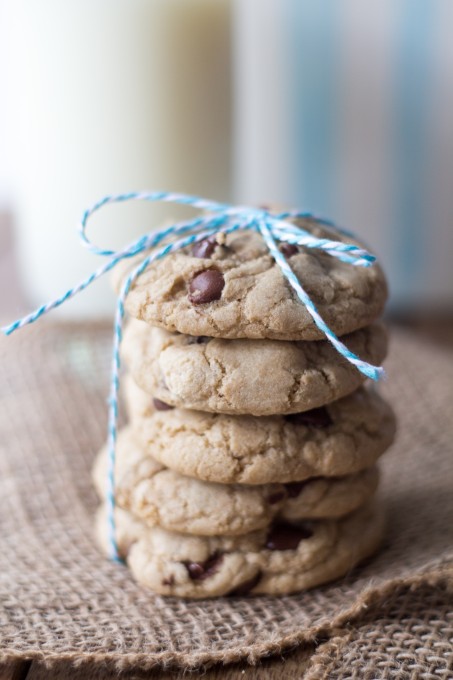 I hope you enjoy them too!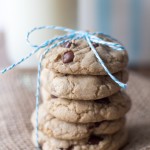 Milk Chocolate Chip Cookies
2014-06-19 18:11:53
Ingredients
1/2 cup (1 stick) butter, softened
1/2 cup white sugar
1/2 cup brown sugar
1 egg
1 teaspoon vanilla essence
1 1/2 cups all purpose flour or gluten free blend
1/2 teaspoon baking soda
1 teaspoon hot water
1/4 teaspoon salt
1 cup milk chocolate chips
Instructions
Preheat the oven to 350° F and line 1-2 baking trays with parchment paper.
In a large mixing bowl, beat the butter, white sugar and brown sugar together until smooth and creamy. About 3 minutes.
Add the egg and vanilla and continue to beat the mixture until well combined.
Dissolve the baking soda in the hot water. Add to the mixture.
Stir in the salt, flour and chocolate chips and mix until just combined.
Roll the dough into balls of approximately 1 inch diameter and place on the baking trays. Leave about 2 inches between each ball, as they will flatten during cooking time.
Bake in the oven for about 10-12 minutes, or until the edges are slightly browned.
Cookies or Biscuits? http://www.cookiesorbiscuits.com/