English Muffins are hugely popular in our household. Many mornings I get woken up by a little voice saying "Mummy, I'm hungry. Can I have some circle toast". I've taught him how to use the toaster to make regular toast, but English muffins need to be broken in half before they go in the toaster. So I drag myself out of bed and make English Muffins, otherwise known as circle toast.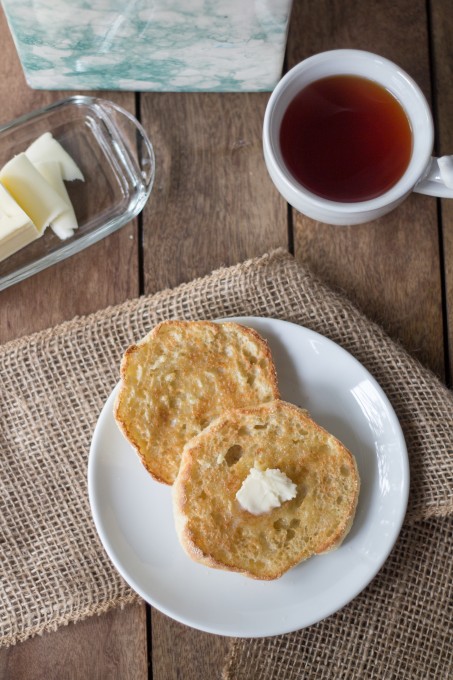 English muffins, unfortunately, are not something that you can wake up and decide to make for breakfast one morning. Like all bread products, they require time to proof. The process of making these muffins takes a couple of hours. Luckily, you can make them the day before and they will still taste great the next morning for breakfast, as it's usual to toast English Muffins. They also freeze really well.
I have a tip for getting luke warm water and milk, as called for in this recipe. I fill a two cup measure with 1 cup of boiling water. I then add the milk to the water and stir. I find that it is usually about 100 F.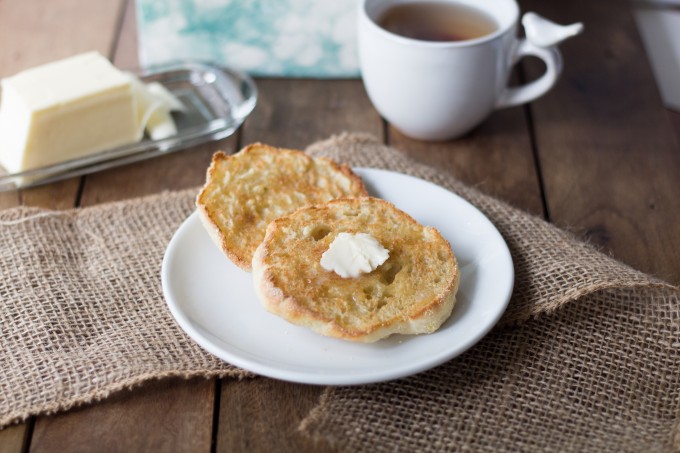 The process for making English muffins starts out like bread. You make the dough, then let it rise for about an hour or until it doubles in size. You don't want to leave the dough rising too long, or it will get a yeasty taste. If the dough has doubled in size by 45 minutes – take it out and start the next step! This batch was a bit too yeasty, as they rose too much after a little daughter/kitchen disaster happened. Instead of moving onto the next step, I needed to help her and left them proofing too long. Life happens.
The big difference from bread happens during the 3rd rise. Before the last rising, you divide the bread into 8-9 balls. Then you dust a baking tray, or two, with corn flour and place the dough onto the trays. Next you dust the tops of the English Muffins. Then you take another tray, of the same size, and place it upside down on top of the tray with the English Muffins. They will rise again during this final proof, but the tray on top will give them the classic flat top that are characteristic of English Muffins.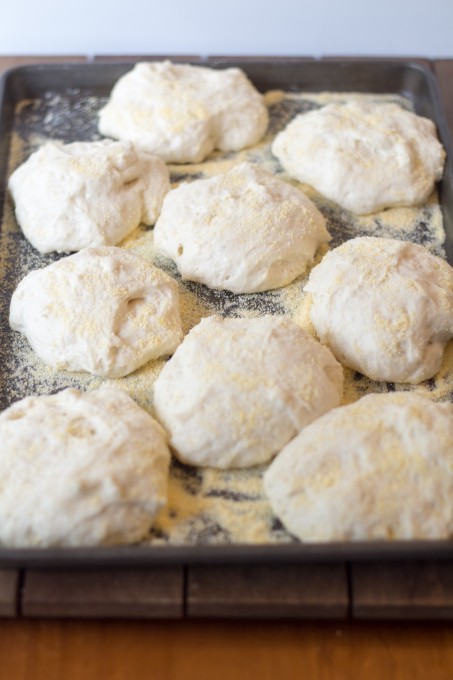 The next big difference between bread and English Muffins is that English muffins are fried rather than baked. You can use a frying pan or a flat skillet. But they never go in the oven.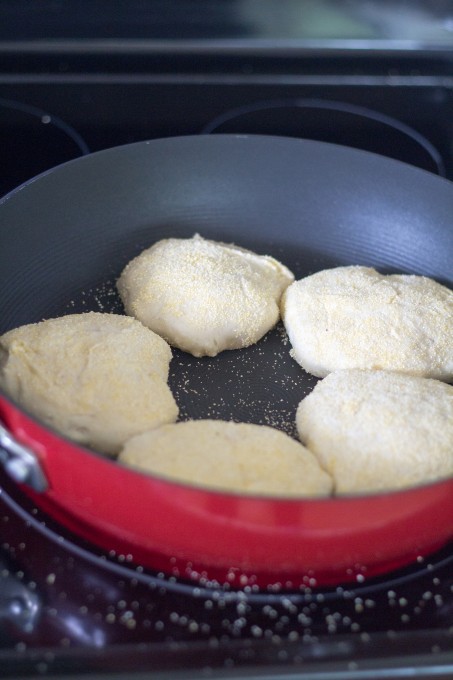 To serve the English Muffins, toast them until they turn golden. Serve with butter for a simple breakfast or top them with jam or honey. For a more balanced breakfast, serve with eggs or bacon – either on the side or as a sandwich. If you are feeling adventurous you could always try Eggs Florentine or Eggs Benedict, both with are traditionally served on an English Muffin.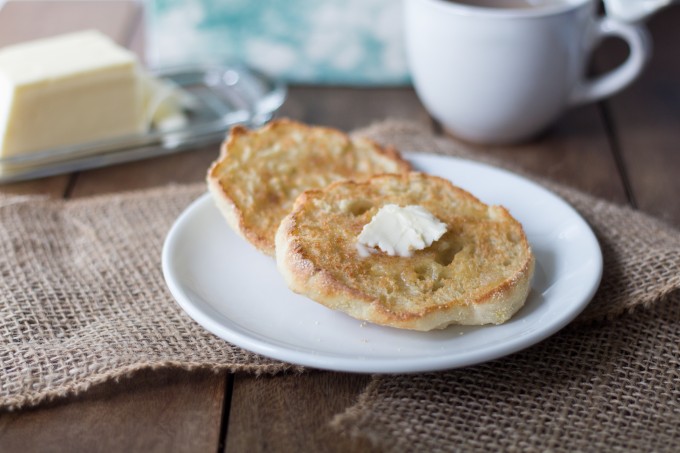 This wonderful recipe has been adapted from one of my favorite cookbooks The Great British Book of Baking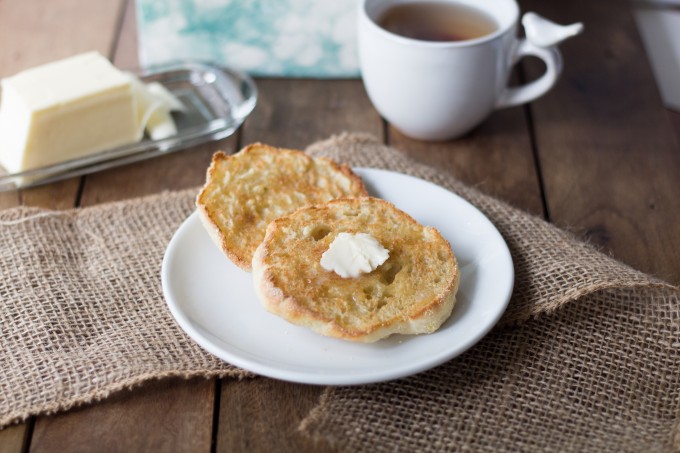 English Muffins
2014-06-17 14:59:25
Ingredients
2 1/4 cups (310g) bread flour
2/3 cups (100g) white all purpose flour
1 teaspoon salt
7g (1 sachet) instant yeast or bread machine yeast
1 cup (225ml) lukewarm water (100 - 110 F)
2/3 cup (100g) lukewarm milk (100 - 110 F)
yellow corn flour, for dusting
Instructions
Mix the bread flour, plain flour, salt and yeast together in a large mixing bowl.
Make a well in the flour and add the lukewarm water and milk.
Using either your hands or a dough hook on the slowest speed, mix the ingredients until they form a soft sticky dough.
Continue to mix and knead the dough for about 10 minutes until the dough becomes elastic and no longer sticky. This will take about 4-5 minutes with the dough hook.
Cover the bowl with a damp dish towel and put it in a warm location until it doubles in size. This will take about a hour, but size is more important than time. Start checking after about 40 minutes. Do not worry if it takes longer - your location is probably a little cooler.
Once the dough has doubled in size, turn it out onto a lightly floured surface and begin to knead the dough for about 5 minutes.
Return the dough to the bowl, cover with the damp dish towel again and return it to the warm location for another 30 minutes.
Dust a large baking tray with yellow corn flour.
Divide the dough into 8-9 pieces, and place them on the baking tray, leaving space for the dough to grow again. Sprinkle the top of the dough with more corn flour.
Take another baking tray of the same size, and place over the top of the tray with the dough. This will prevent the muffins from rising into a bun shape, and give them their traditional flat top appearance.
Leave the covered dough in a warm place again, and leave to rise for another 30 minutes.
Heat a skillet or frying pan to a medium heat. Place a few muffins into the frying pan and cook on one side for about 10-12 minutes, or until they start to turn golden brown. Turn over, and cook for about 8-10 minutes, once again until they start to turn golden brown.
Remove them from the heat, and wrap in a clean dish cloth while the other muffins are cooking.
Split the muffins with a fork, and toast before serving.
Cookies or Biscuits? http://www.cookiesorbiscuits.com/