Chicken has got to be one of the most versatile meals. From delicious Indian curries to baked chicken – there are just so many variations. One of my favorite ways to eat chicken is this Cornmeal Crusted Chicken with Corn, Peppers and Onions.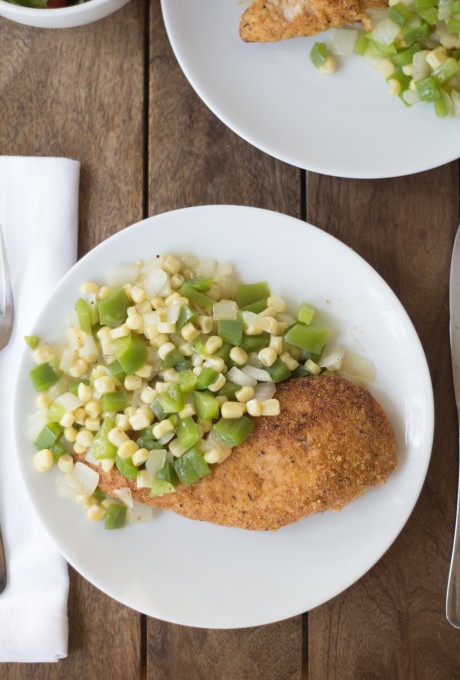 This recipe has been adapted from one of my favorite Weight Watchers recipes. I've said it before, but Weight Watchers come out with some of the best recipes! The thing I miss most about not following their diet is my lack of access to their recipe books! They have helped me loose baby weight after each baby, and then again after finishing breastfeeding. I always packed on the weight after breastfeeding – it really does burn calories but I always keep eating the same way after finishing!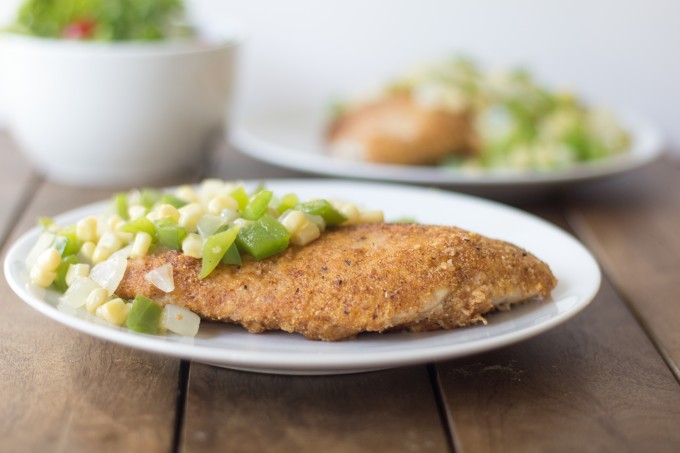 My daughter does not like chicken very much, but she will eat this. And my husband loves it. Because we eat it often enough, I simply make a large batch of the cornmeal coating and keep it in a Ziplock bag. It makes this a very quick week night dinner, as all I have to do is prep the vegetables, then scoop out 1/2 a cup of the cornmeal crust. I also make my own Cajun spice – I'll give you the recipe in the next few weeks but there are many out there on the internet if you want to make one now.
It's hard to see in the photos, but the broth and cornstarch which is added to the veggies make a light sauce, giving an added flavor boost to the vegetables. I also love that this is a meal in itself – no need to serve up any other vegetables if you don't want to – although I have to confess I often add a salad or another vegetable or two on the side. I do love my veggies!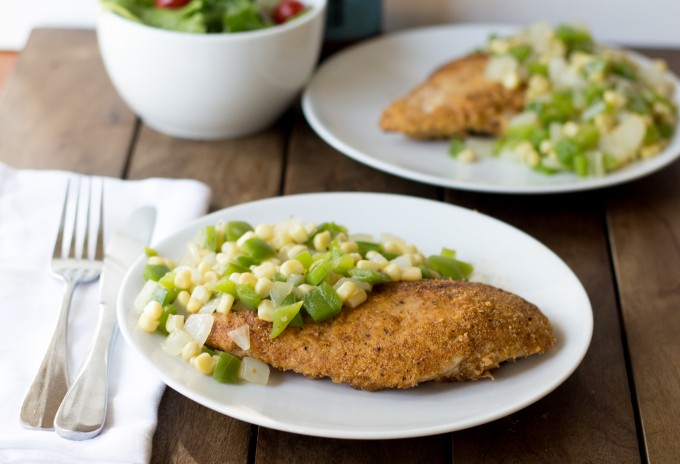 As these chicken breasts are pan fried, I find I need to slice my chicken breasts in half. Otherwise, they take too long to cook and you end up with burnt outsides and pink middles. You can either butterfly cut them or continue the butterfly cut all the way through to make 2 breasts. If you think your chicken breasts are thick enough to be sliced, then you will probably only need 2 breasts instead of the 4 in the recipe.
Cornmeal Crusted Chicken with Corn, Onions & Peppers
2014-07-10 15:19:44
Ingredients
1/2 cup yellow cornmeal
3 teaspoons Cajun seasoning
4 chicken breasts
2 tablespoon butter
1 medium sized onion, finely chopped
1 green bell pepper, finely choppped
1 cup frozen corn kernels, thawed
1/4 teaspoon salt
1/4 teaspoon black pepper
1/2 cup reduced sodium chicken broth
2 tablespoons cornstarch
Instructions
Add the cornmeal and cajun seasoning to a Ziplock bag and shake to combine. Add the chicken breasts and shake until the chicken is coated with cornmeal.
In a large frying pan, melt 1 tablespoons of butter over medium heat. Add the chicken, and fry for approximately 5 minutes. Turn the chicken over and fry for another 5 minutes or until the chicken is fully cooked. Remove and cover with aluminum foil.
Add the other tablespoon of butter to the frying pan, if required. Add the chopped onion, bell pepper and corn. Saute until the onion has softened, about 5 minutes.
In a small bowl, mix the broth and cornstarch together. Add the mixture to the frying pan with the onions, and bring to a boil. Reduce the heat and simmer for 3-4 minutes, or until the sauce has thickened.
Serve the onion, peppers and corn over the chicken.
Notes
If your chicken breasts are very thick, you will need to butterfly cut the breasts to ensure they cook thoroughly.
Cookies or Biscuits? http://www.cookiesorbiscuits.com/