Raspberry Coconut Squares are one of my favorite things to eat for afternoon tea. They are not quite a cake but not a cookie. It's made from a pastry base, layered with delicious raspberry jam, then topped with a coconut and sugar topping. When you take a bite, all these three tastes blend together to make a sweet treat.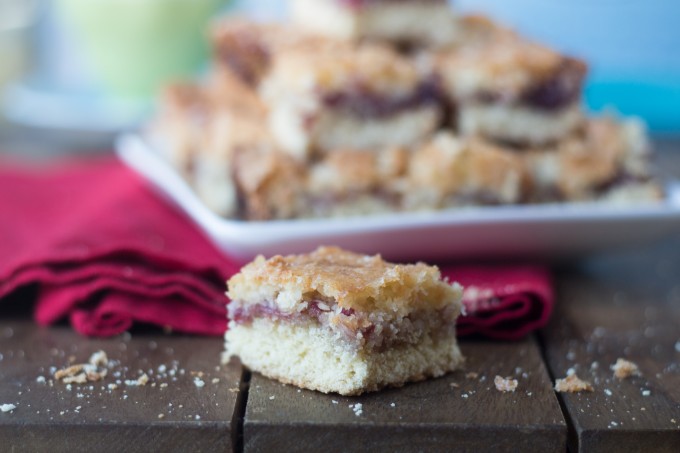 I avoided this slice for a long time, because I had a few failures converting it to a gluten free recipe when my love first needed to eat gluten free. This was about 10 years ago, and there was not a lot of information available on cooking with gluten free flours. I relied on the classic Gluten-Free Gourmet

by Bette Hagman to get me through those first few years – she was truly a pioneer in the gluten free cookbook world. I still have a number of her books which I use with regularity. However my own first attempts at moving away from standard recipes did not always meet with success. These days, with more experience, I have fewer failures – and the courage to keep on trying. I brought this recipe out of the archives about a year ago. This time around, finding the right blend of flour was much easier. It's funny what 10 years of gluten free cooking can do!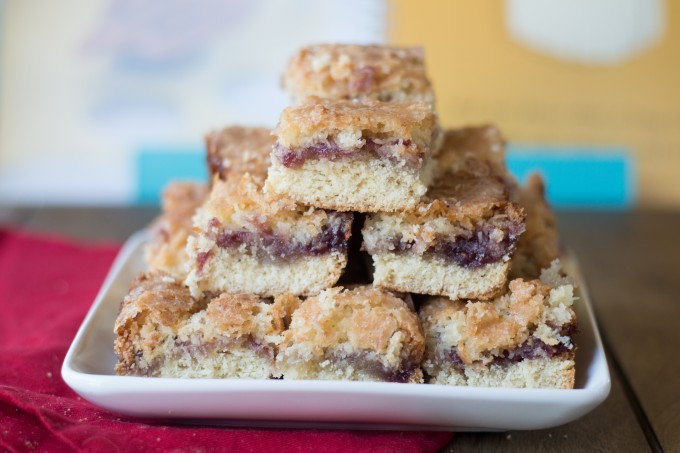 Mum used to make this when I was a child. Mum baked a lot, and we loved coming home from school to find something new had been made. It amazes me that she had the time to bake, between running a business with my dad, looking after the house and being an amazing mother to my siblings and I. For years, I considered that my mother was a stay-at-home mother despite that fact that she ran a business. She just managed to balance her work life in a way that she was always available for us. However, before having children she was a home economic teacher, so making food was a part of her life. Instead of teaching other peoples children – she ended up teaching us.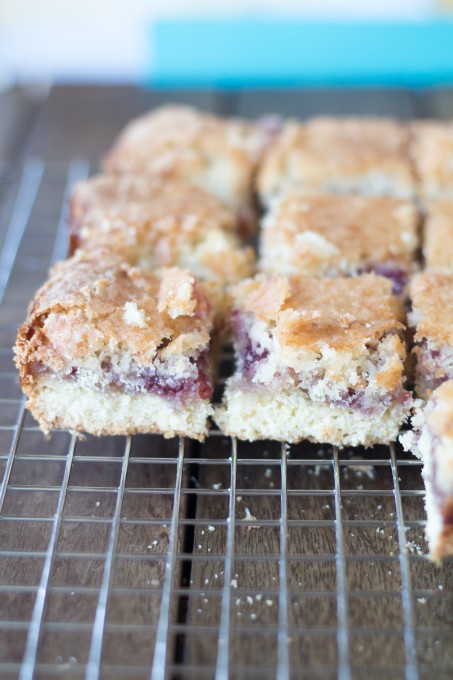 As these squares have a coconut topping, I decided to use coconut flour in the pastry. I think coconut flour overpowers other tastes in some recipes, but in this recipe the coconut flour blends perfectly. Apart from the flour blend, it's the same recipe that Mum used to make. I am tempted to try using coconut sugar next time I make this slice, as I think it would taste nice and it would be completely free of refined sugar. If you try it, I'd love to know your results!
If you would like to make this with regular wheat flour, you can remove the coconut flour, brown rice flour and tapioca flour and replace it with 1 cup of all purpose flour.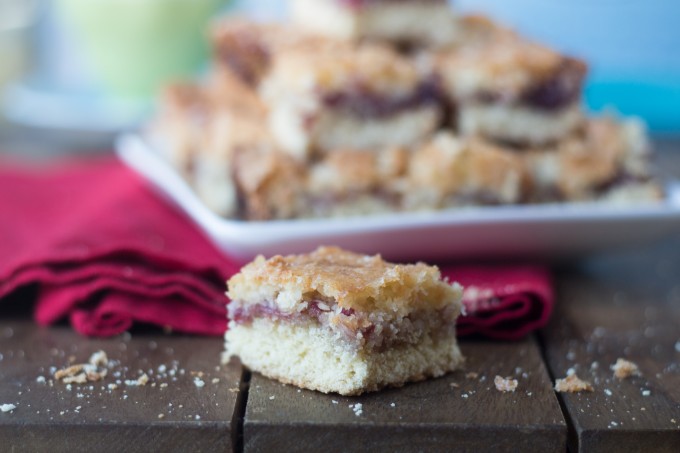 Gluten Free Raspberry Coconut Squares
2014-07-17 00:02:18
Pastry
2 oz butter
1/4 cup sugar
1 egg
1/2 teaspoon vanilla extract
1/4 cup coconut flour
1/2 cup brown rice flour
1/4 cup tapioca flour
1 1/2 teaspoons baking powder
1/2 teaspoon salt
Topping
1/2 cup raspberry jam
1 egg
1 cup coconut
3/4 cup sugar
Instructions
Preheat the oven to 350°F, and grease a square 9" cake pan. Line the sides of the pan with parchment paper.
Cream the butter and sugar in a large bowl. Add the egg and beat well. Add the vanilla and beat again.
Sift the flours, baking powder and salt together. Gradually add the flour mixture to the pastry mixture. Stir well with a wooden spoon. The pastry should feel like a stiff paste.
Press out the pastry evenly into the greased pan. Spread the raspberry jam thinly over the pastry.
In a small bowl, beat the egg then add the coconut and sugar. Mix well.
Spread the coconut mixture over the pastry and raspberry jam.
Bake for approximately 30-35 minutes or until the coconut is golden brown.
Allow the slice to cool slightly before cutting it into squares.
Cookies or Biscuits? http://www.cookiesorbiscuits.com/