It's Sunday night here in Seattle, but my body is in disagreement. I have just returned from Australia where I have spent some wonderful time with my family. The jet lag coming back from Australia is brutal, but it's worth it to see my family and explore some of that awesome country. I treasure the times when I get to see everyone, and it breaks my heart to leave again.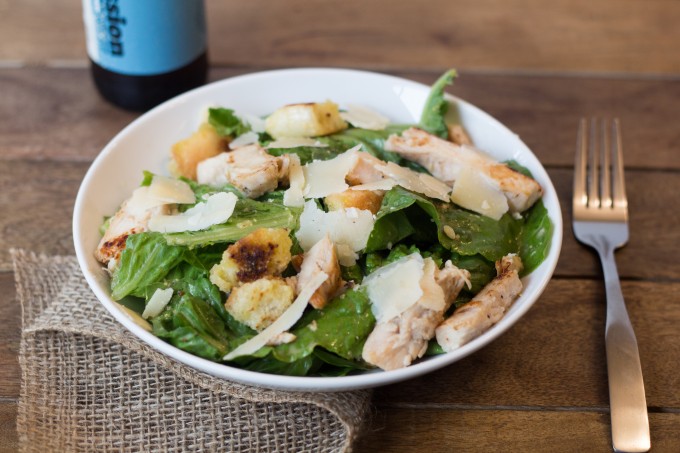 My sister has recently moved to another state, so we got to explore more of Australia – this time we headed to the Northern Territory – somewhere that I have never been before.
I finally got to try kangaroo steaks and crocodile – both of them were delicious. Especially that kangaroo – it was similar to beef but so much more succulent. It is something that I would happily eat again. The crocodile reminded me of a cross between pork and chicken, however while we were exploring Kakadu National Park, the rangers told us that Aboriginal people, who are allowed to hunt and eat wild crocodile, say it tastes like fish. It's truly a case of "you are what you eat!" as farmed crocodile are apparently fed chickens!
Couldn't you just imagine this Chicken Caesar Salad being made into a Crocodile Caesar Salad!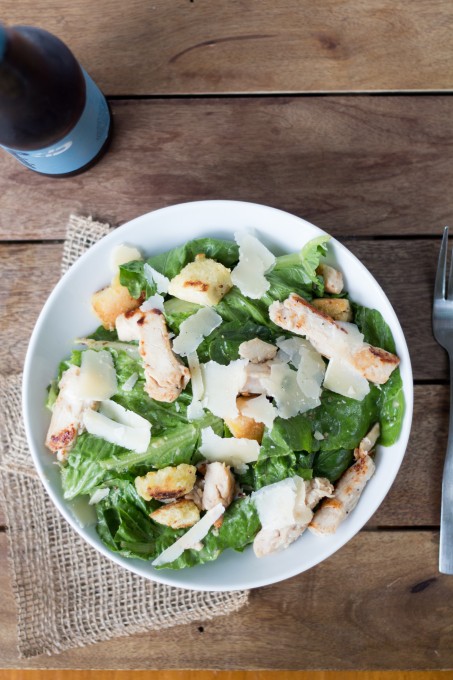 I started making Caesar salad when I discovered that my 12 year old was picking his hot lunch days based around when they were serving this on the menu. When you discover they love something healthy – you go with the flow!
Chicken Caesar Salad
2014-07-22 00:07:51
Ingredients
12 oz chicken, cooked and cubed
1 head romaine lettuce
1 1/2 oz Parmesan cheese, shaved
croutons (see recipe below)
Caesar dressing (see recipe below)
Croutons
1/3 cup extra-virgin olive oil
4 cloves garlic, minced
4 slices Italian bread or gluten free bread, cut into cubes
Caesar Dressing
4 anchovy fillets, packed in oil
1 garlic clove
1 egg
1 tablespoon fresh lemon juice
1 tablespoon Worcestershire sauce
1 teaspoon Dijon mustard
salt and pepper, to taste
Caesar Dressing
Using a food processor, chop the anchovy fillets and the garlic cloves. Transfer to a small bowl.
Bring a small saucepan of water to a boil. Add the egg and boil for 1 minute. Remove the egg, immerse it in cold water, then break it into the bowl with the anchovies.
Whisk in the lemon juice, Worcestershire sauce and Dijon mustard until well blended.
If desired, season with salt and freshly ground pepper.
Croutons
In a frying pan over high heat, combine the oil and garlic and fry for about 1 minute until the garlic is brown and fragrant.
Add the bread cubes to the pan, stirring often, until browned.
Transfer to a sheet of paper toweling to drain.
The Salad
Roughly tear the larger lettuce leaves, and keep the smaller leaves whole.
In a large salad bowl, toss the lettuce with the croutons and salad dressing. Scatter shaved Parmesan over the top and serve immediately.
Cookies or Biscuits? http://www.cookiesorbiscuits.com/