I'm in denial. It's October, and I should be making pumpkin bread, pumpkin latte, apple pies and all things Autumn. But today I wanted to make Coconut Cupcakes. And once the craving started, no amount of seasonal sense could change my mind. So I'm having a little slice of summer again. Or should I say cupcake of summer.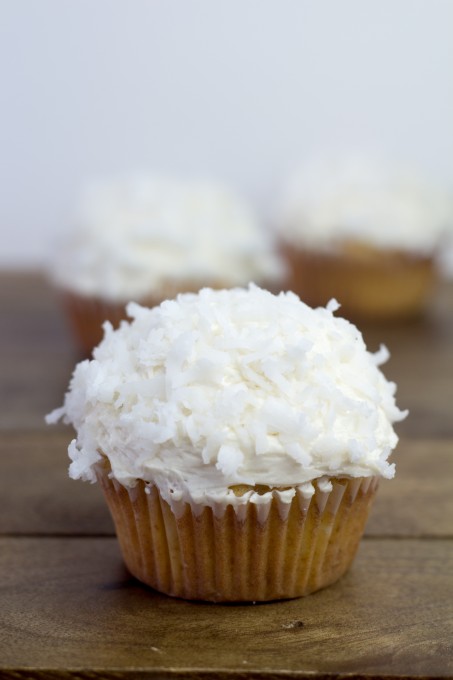 This recipe comes from my favorite cookbook Williams Sonoma Kids Baking

It was published in 2003 – I must have picked it up when I wanted to do some cooking with my now 12 year old. It's a purchase that I have never regretted. These are always a hit with my kids, although I have to skip the coconut on top for my youngest.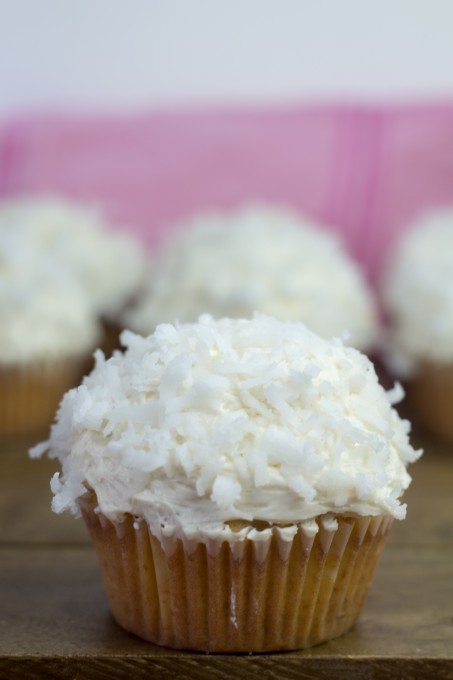 Maybe I could claim these as winter themed food? They do sort of look like they could be covered in snow. Maybe I'm being forward thinking! Who am I kidding? It's just the call of the coconut.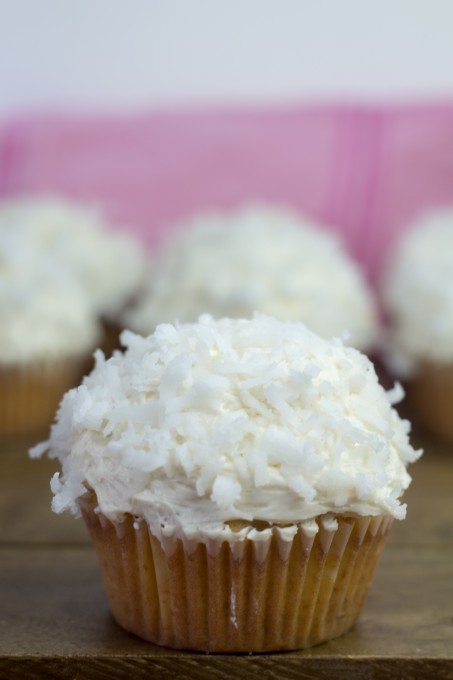 Coconut Cupcakes
2014-10-15 22:40:14
Ingredients
1 3/4 cups all-purpose flour
1 1/2 teaspoons baking powder
1/4 teaspoon salt
1/2 cup butter, at room temperature
1 cup sugar
1 1/2 teaspoons vanilla extract
2 large eggs, at room temperature
1/2 cup plain yogurt
1/2 cup coconut, sweetened and shredded
Vanilla Frosting with Coconut
3/4 cup butter, at room temperature
3 1/4 cups confectioner's sugar
2 tablespoons heavy whipping cream
2 teaspoons vanilla extract
1/4 teaspoon salt
1 1/2 cups coconut, sweetened and shredded
Instructions
Preheat the oven to 375° F and line a muffin tin with paper liners.
Combine the flour, baking powder and salt together in a medium sized mixing bowl.
In a standing mixer, beat the butter and sugar together until creamy, about 3 minutes.
Add the vanilla extract and beat to combine.
Add the eggs, one at a time, beating until combined.
Add half the flour mixture and the yogurt, then beat on a low speed until blended.
Add the rest of the flour and the coconut, and beat until just blended.
Scoop the batter into the prepared muffin cups.
Bake in the oven for about 25 minutes, or until a toothpick, inserted into the middle of the cupcake, comes out clean.
Allow the cupcakes to cool in the muffin tin for about 10 minutes, before removing to cool completely on a wire rack.
Vanilla Frosting with Coconut
In a medium bowl, beat together the butter, confectioner's sugar, cream, vanilla extract and salt until smooth and creamy, about 3-4 minutes.
Pour the coconut into a small, shallow bowl.
Frost the tops of each cupcake, mounding the frosting in the center. Tip the cupcake upside down into the coconut and lightly roll the cupcake to cover all the frosting.
Cookies or Biscuits? http://www.cookiesorbiscuits.com/