Coleslaw! It's such a simple side salad, and yet I hardly ever make it. But lately, I've been having pulled pork sandwiches with more regularity and coleslaw is the perfect accompaniment. It's like the honey to the bee: the pulled pork to the coleslaw. They just go so well together.
I love to use a mix of purple and green cabbage, along with some carrot, to make a more colorful coleslaw. But if you only have one color cabbage, it's still going to taste fabulous. And the reality is, when it's in your stomach the color isn't going to matter.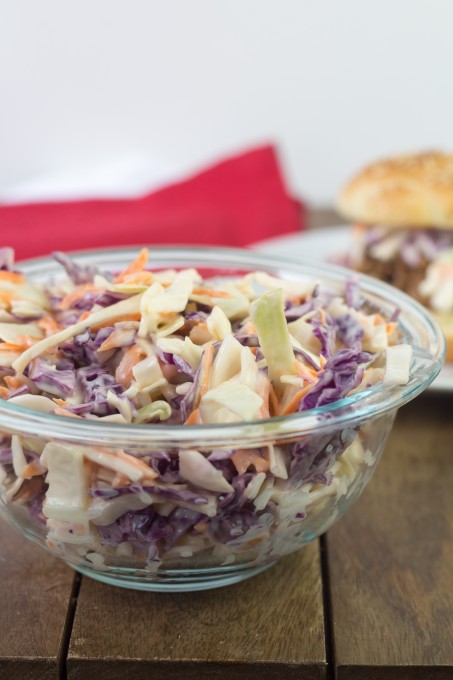 If shredding your own cabbage puts you off making coleslaw, there is a great tutorial at TheKitchn.com It's much cheaper and fresher than the bags of pre-shredded cabbage. If time saving is your goal, then buy the bag from the shops. There is no shame in that!
Serve it as a side, or serve it as part of a meal like in these Pulled Pork Sandwiches. Yum!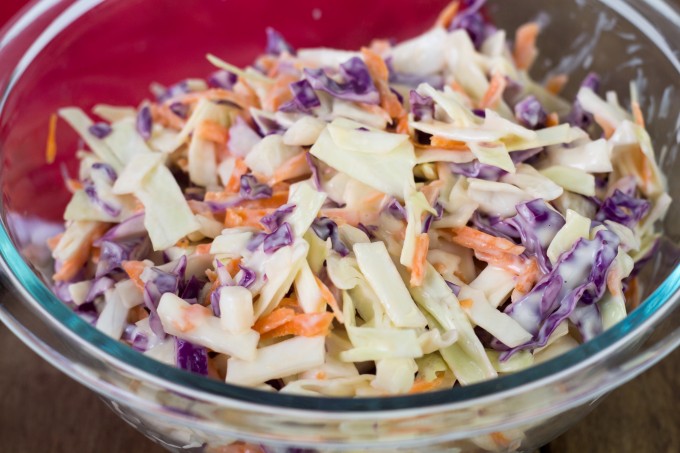 Simple Coleslaw
2014-10-11 23:20:43
Ingredients
2 cups green cabbage, finely cut
1 cup purple cabbage, finely cut
1/2 cup grated carrot
1/2 cup mayonnaise
2 tablespoons white wine vinegar
1 1/2 tablespoons sugar
Salt & pepper, to taste
Instructions
Combine finely cut cabbage and grated carrot in a large bowl.
In a small bowl, combine the mayonnaise, white wine vinegar, sugar, salt and pepper. Stir well.
Pour mayonnaise mixture over the cabbage and carrot.
Toss the coleslaw until all the cabbage is coated.
Serve immediately, or refrigerate for up to 24 hours.
Cookies or Biscuits? http://www.cookiesorbiscuits.com/