I love Indian food. If you want to take me out to dinner – Indian is always going to be a winner. Where I lived in Australia and now in America, Indian restaurants are plentiful. Cooking Indian however, can seem daunting. For an authentic Indian experience, you need special tandoor ovens, spices which can't be found easily and lots of time. All of which I don't have. However, this Chicken Tikka Masala is as close as a home cook can get to an authentic experience, using just your oven and stove top.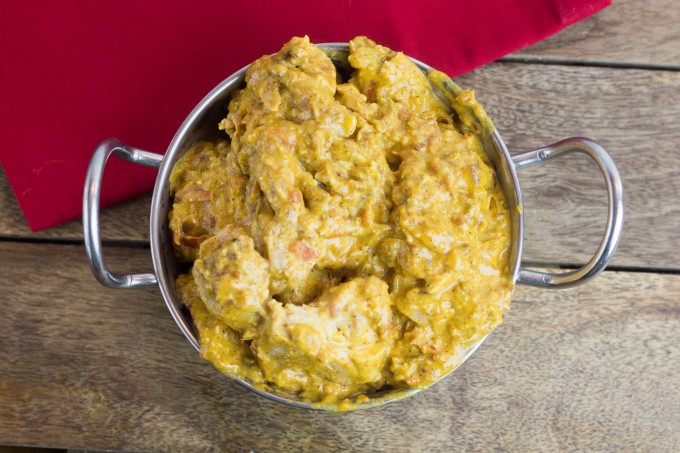 Chicken Tikka Masala starts out with preparing the Chicken Tikka. Chicken Tikka is simply a marinated chicken dish. Add the sauce, and it becomes Chicken Tikka Masala. I make my marinade in the morning, and let the chicken sitting in the marinade until dinner time. You need to leave it marinading for at least 4 hours, and up to 24 hours. Preparing the chicken the night before works well if your mornings are busy.
After the chicken has marinated, it goes into the oven and cooks until it's no longer pink. (Just like oven roasting any chicken). My eldest son loves to eat the chicken just like this, without the sauce. I usually reserve a couple of Chicken Tikka thighs, just for him. They are very mild. If you like a lot of heat, you may like to add the serrano chili or a pinch of cayenne pepper to your marinade.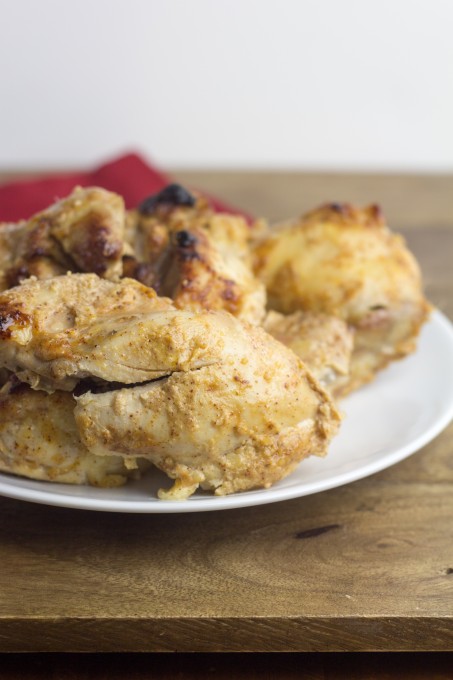 While the Chicken Tikka is cooking in the oven, I make the Chicken Tikka Masala. The masala is a creamy tomato based sauce. As I am feeding two children who do not tolerate heat, I make mine very mild. For me, this means no added serrano chili.
If you like a higher spiciness level, you may like to add a hotter chili. A serrano chili gets a 5 on the Scovilla Chili Heat Chart, so it's about the same heat as a jalapeno. A chipotle will add a little more heat, but to really turn up the heat, try some habanero chili.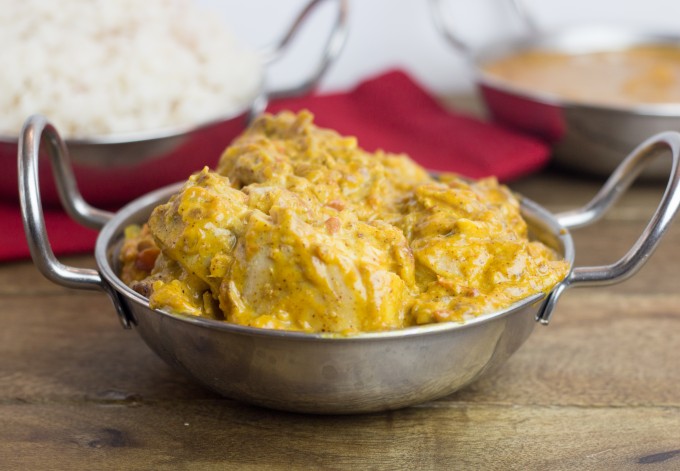 Chicken Tikka Masala tastes great served with rice or some Naan bread. My five year old thinks that Naan bread is the best Indian food around, so that would be his vote every time!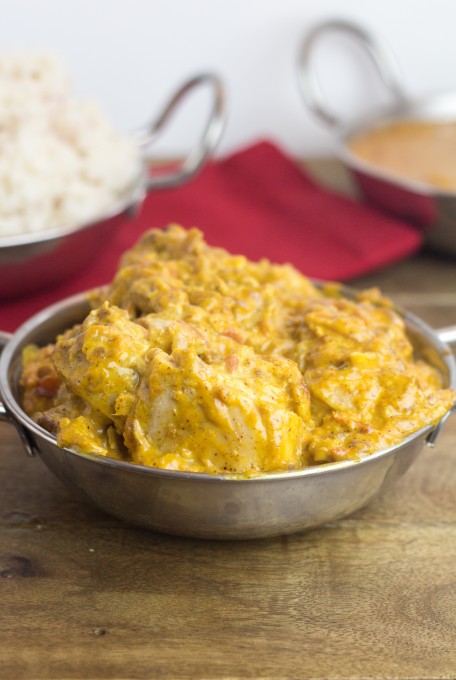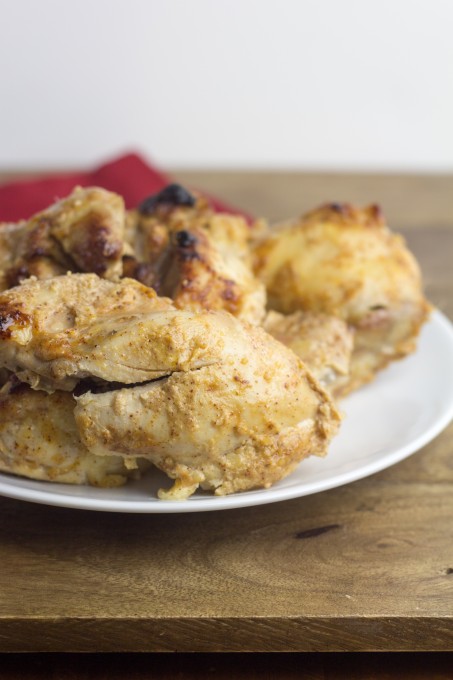 Chicken Tikka
2014-10-18 15:50:15
Ingredients
1 1/2 cups plain yogurt
1 tablespoon fresh ginger, pureed
1 tablespoon fresh garlic, pureed
1 serrano chili, pureed (optional, for added spiciness)
2 teaspoons fresh lemon juice
2 tablespoons vegetable oil
1/4 teaspoon salt, or to taste
1 teaspoon red chili powder (more for added spiciness)
1/2 teaspoon garam masala powder
2 pound chicken thighs
Instructions
In a large bowl or casserole dish, combine the plain yogurt, ginger, garlic, serrano chilies (optional), lemon juice, vegetable oil, salt, chili powder and garam masala.
Add the chicken thighs. Cover and let marinate in the refrigerator for at least 5 hours, or overnight.
Preheat the oven to 400.
Place the chicken thighs on a baking sheet and roast for about 30 minutes, or until the chicken is no longer pink.
Meanwhile, begin making the Chicken Tikka Masala sauce.
Cookies or Biscuits? http://www.cookiesorbiscuits.com/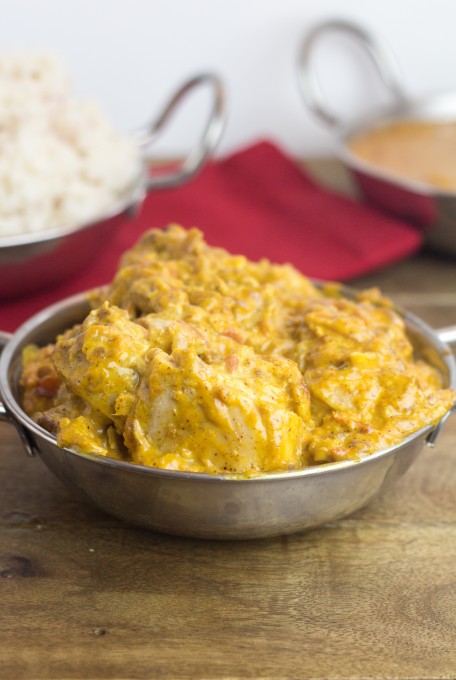 Chicken Tikka Masala
2014-10-18 16:09:14
Ingredients
3 tablespoons vegetable oil
1 red onion, finely chopped
1/2 teaspoon fresh garlic, pureed
1/2 teaspoon fresh ginger, peeled and pureed
1 serrano chili, pureed (optional, add more for extra spiciness)
2 tomatoes, finely chopped
1/4 teaspoon turmeric powder
1/4 teaspoon salt
1/2 teaspoon garam masala
3/4 cup heavy cream
1 recipe Chicken Tikka
Instructions
In a large frying pan, over medium heat, heat the vegetable oil.
Add the onions and saute for about 8 minutes. Add the pureed, garlic, ginger and chili, and continue to saute for another minute.
Add the finely chopped tomatoes, and stir occasionally, for another 8 minutes.
Add the turmeric powder, salt and garam masala and mix for another minute.
Add the cream, and cook for another 1-2 minutes. Add the cooked Chicken Tikka and cook until the chicken is heated through.
Cookies or Biscuits? http://www.cookiesorbiscuits.com/