It's been a "C" week here. "C" for Crazy – thanks to cauterizing, crutches, car crashes (nothing serious and not related to the first two things – but the car needs to go to the shop for a week) and of course, cooking. I love the last one, but could have done without the first few. But life goes on, and dinner needs to be made. I was going to tell you about this Creamed Spinach in Flank Steak on Monday, but well – you know that whole Crazy life thing. It sort of got in the way. So today, you get this amazing and surprisingly easy dinner!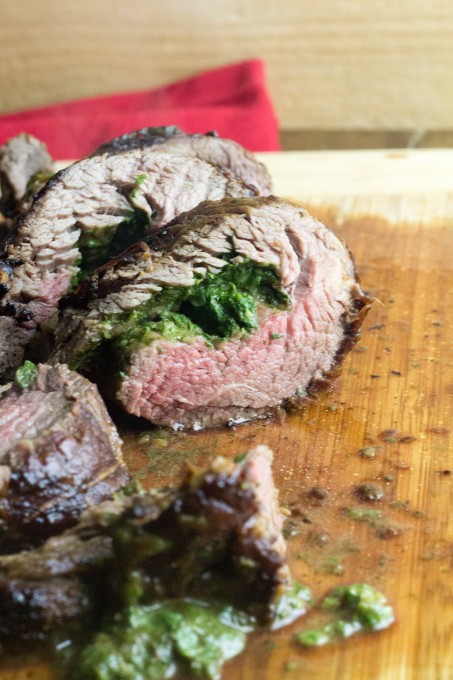 I found this recipe a few years ago on a wonderful blog called "Dinners for a Year and Beyond" The website is no longer maintained, but it's got a great collection of dinners. I've altered this recipe slightly since I first made it but it's similar to the original. I know it's technically not creamed spinach inside – as that is made with cream instead of cheese, but the end result is a cheesy, creamy spinach mix which I have called "creamed spinach". I hope food perfectionists will forgive me.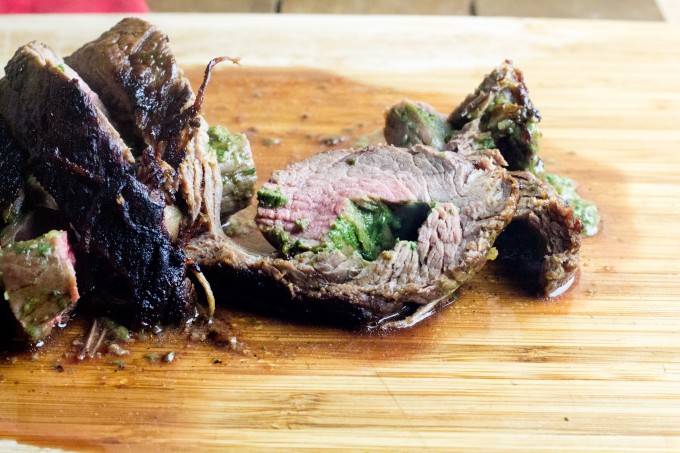 Don't let the look of this meal put you off – it might look like it's a little difficult but it's actually very easy and quick to make. My 10 year old saw it just as I had finished rolling the steak up and she exclaimed "Wow Mum – that looks so fancy. It must have been hard!". But it wasn't. Really.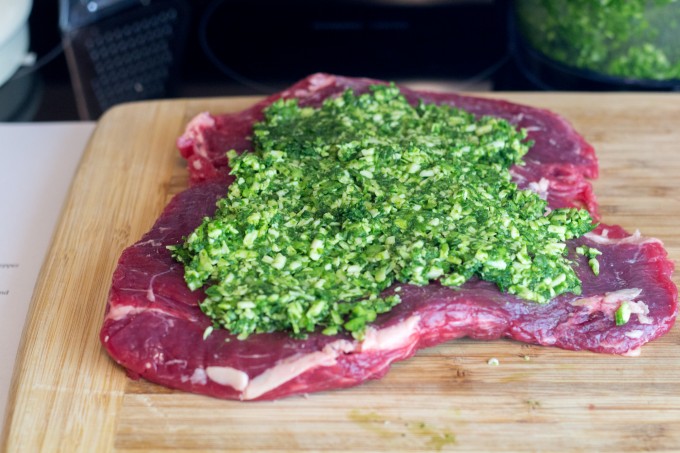 It starts out by making the creamed spinach in a food processor or blender. First you toss the ingredients in the food processor and the spinach is ready within 2 minutes. Then spread the mixture over the flank steak, roll it up and secure it with twine, and brown the outside in a frying pan. Transfer the frying pan to the oven and allow the flank steak to roast for about 25 minutes. And it's done. And it's delicious.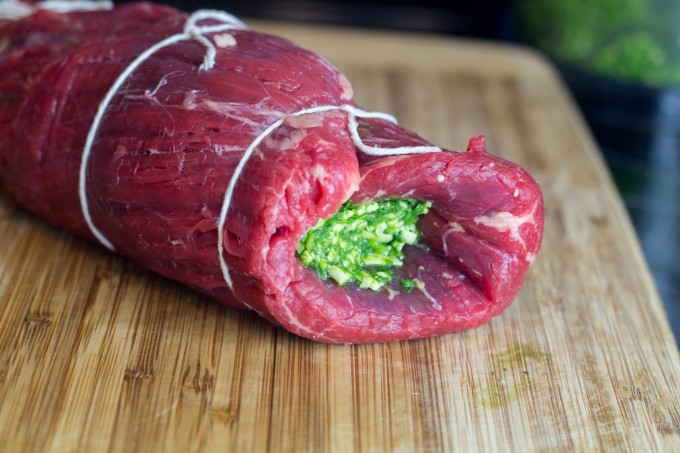 My eldest and myself are the steak lovers in the family. Providing the cut of the meat is not tough, giving us steak in any form is going to be a winner. But my love is not a huge steak fan. Give him fish, lamb and pork and he's much happier. However, every time I have made this, he loves it. We won't mention the 5 year old who refuses nearly all meats and my 10 year old who I believe will probably end up being a vegetarian. But they still are asked to take a mouthful. The required 5 year old gagging and drama enfolds and the 10 year old face screwing up happens. They say a child needs to be exposed to new foods about 10 times. I think it's closer to 100. One day, one day.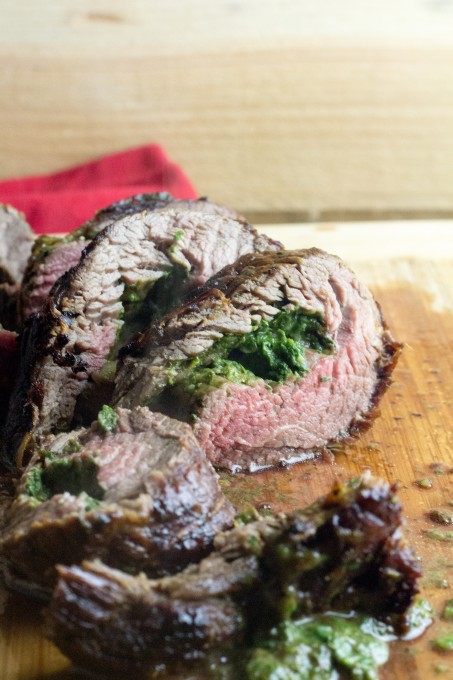 The flank steak I used was slightly under 1 1/2 pounds, therefore I did not use all of the creamed spinach mixture. With only three of us eating a full serving I only need the smaller size steak. However, if you are preparing a 2 lb steak, you will likely need the full amount of creamed spinach.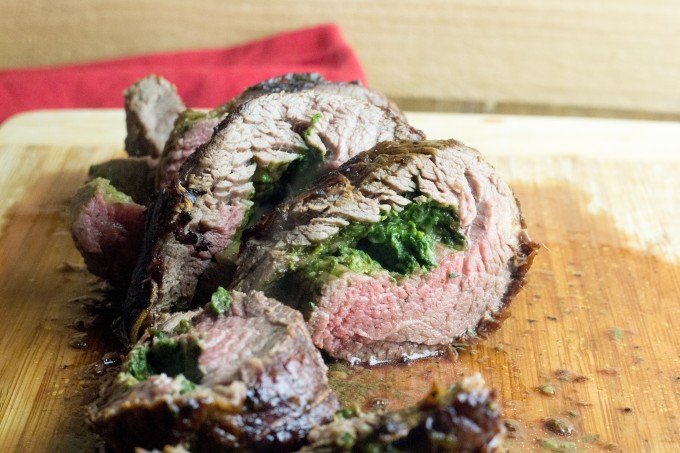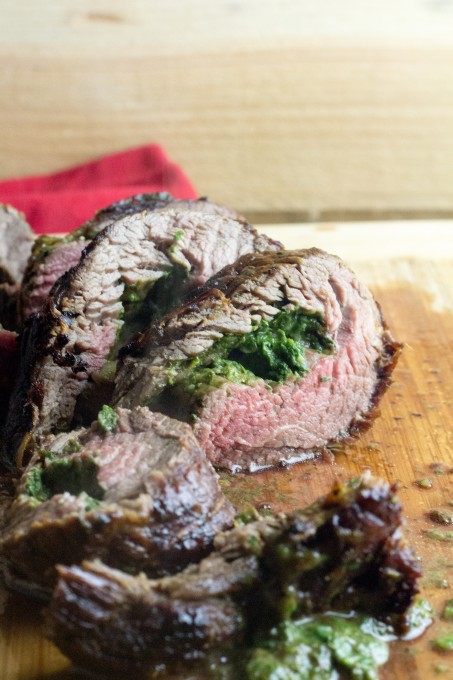 Creamed Spinach in Flank Steak
2014-11-20 10:44:22
Ingredients
3 cups baby spinach
1/4 cup finely chopped onion
1 clove garlic
1 tablespoon fresh parsley
1/2 cup Parmesan cheese
1 cup Monterey Jack cheese
1/4 teaspoon salt
1/4 teaspoon black pepper
Flank Steak (1 slice weighing 1 1/2 - 2 lbs)
1-2 tablespoons olive, canola or coconut oil
Barbecue Sauce
Kitchen Twine
Instructions
Preheat the oven to 400°F.
In a food processor or blender, pulse the spinach, onions, parsley and garlic until all the spinach is chopped. Add the Parmesan cheese, Monterey Jack cheese, salt and pepper and pulse until just blended.
Lay the Flank Steak out flat. The steak should be about 1/2 inch thick. If it is a lot thicker, you will need to butterfly cut the steak (cutting in half horizontally, leaving one end together).
Spread the spinach and cheese mixture onto the steak, leaving about 1 inch free around the edges.
Roll up the steak, jelly style, and secure with kitchen twine.
In an oven proof frying pan, heat 1-2 tablespoons of oil at medium high heat. Saute the steak in the frying pan, rolling it every 1-2 minutes until all sides of the steak are browned.
Brush the steak with the barbecue sauce.
Transfer the frying pan to the hot oven. Roast for about 15 minutes. Turn the steak over and roast for a further 10 minutes or until the internal temperature reaches about 130°F for medium rare.
Remove the steak from the pan and allow to rest for 5 minutes.
Slice into rounds and serve immediately.
Cookies or Biscuits? http://www.cookiesorbiscuits.com/