Peppermint Bark is as American as it comes. Every Christmas, Peppermint Bark hits the shops and it disappears in droves. It comes in the original candy form – a recipe for which I'm going to share with you today. But then you get Peppermint Bark ice-cream, Peppermint Bark cookies, Peppermint Bark Martini's. I'm sure you get the picture.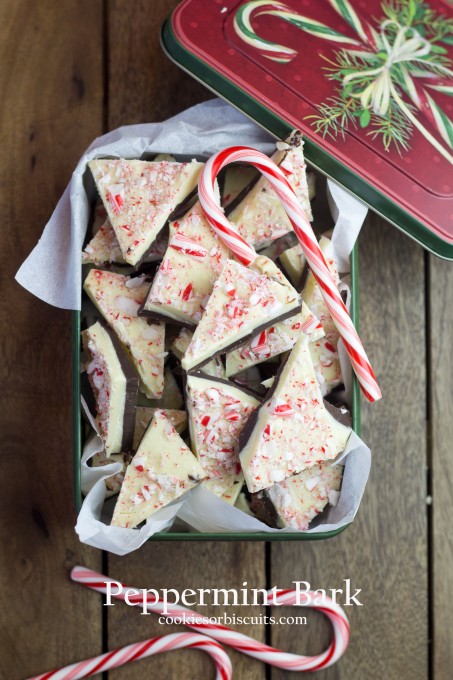 Peppermint Bark is really simple to make, so no wonder it's a such a hit. Despite it's popularity in the United States – it's hard to come by in Australia. I called Mum last night and asked if she had ever heard of it. No – she had not. I was not surprised because I had never heard of it until we moved to this side of the Pacific all those years ago.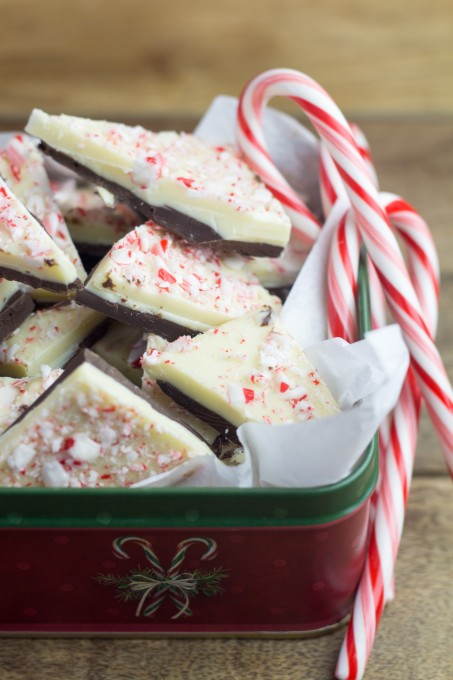 The bottom layer of the Peppermint Bark is made from semi-sweet chocolate. I usually use Ghirardelli Premium Baking Bars. Whatever you choose, just make sure it's a good quality chocolate as this recipe is as good as the chocolate you use.
Because it's been a long time since I've lived in Australia, I needed my Mum's help to translate Semi-Sweet chocolate! We compared notes, and discovered that Cadbury's Dark Baking Chocolate is very similar to semi-sweet chocolate. However, I believe you will get good results with any good quality dark chocolate, eating chocolate (you know – the stuff you snack on instead of baking with!).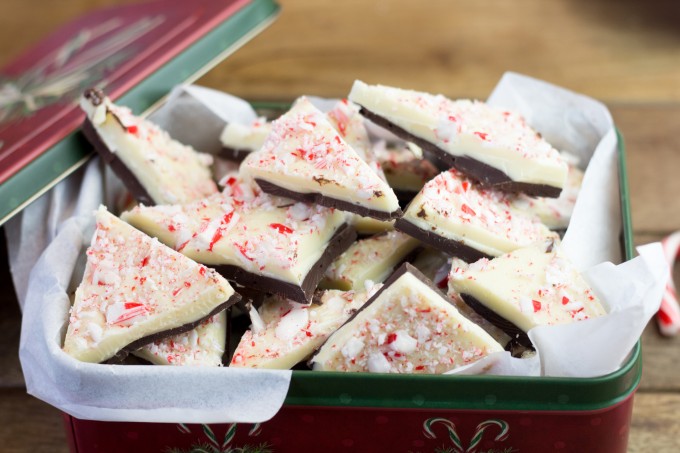 This is a great recipe for kids to make. You melt the semi-sweet chocolate in the microwave, add a small amount of peppermint extract (if desired) and then let it set. Repeat for the white chocolate and pour it over the dark chocolate, but this time you sprinkle the top with crushed candy canes before it sets. Sometimes I use the peppermint extract, sometimes I don't. This time, I only used it in the chocolate layer – simply because I forget to put it in for the white layer. It's all good, pepperminty goodness in the end!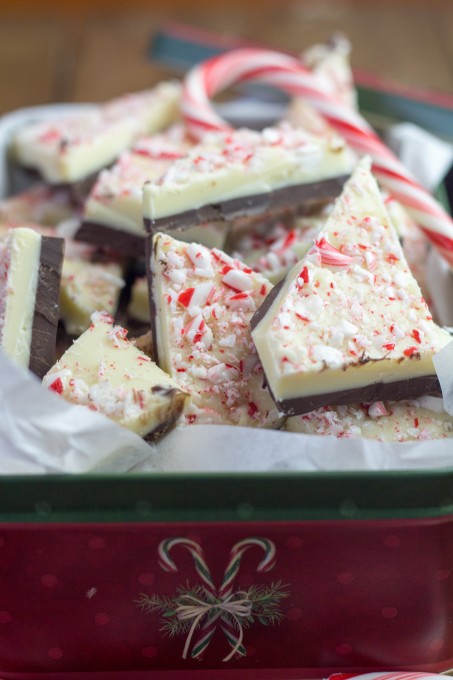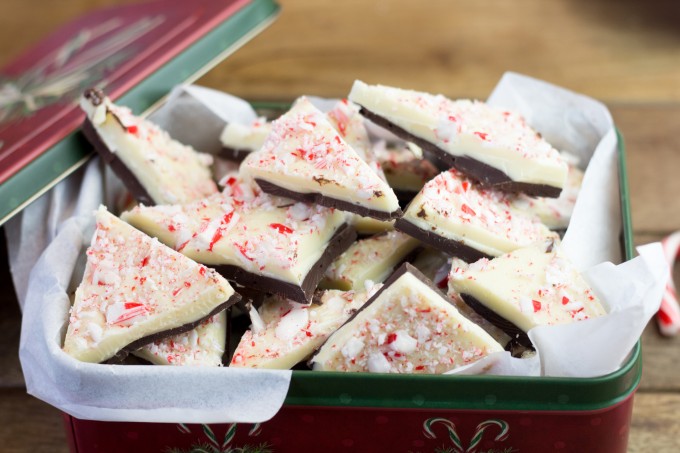 Peppermint Bark
2014-12-21 23:26:19
Ingredients
12 oz Semi-Sweet Chocolate
16 oz White Chocolate
6 candy canes
1/2 teaspoon peppermint extract, divided
Instructions
Line a cookie tray or 9x13 baking tray with parchment paper.
Break up the semi-sweet chocolate into small pieces. Place chocolate in a microwave safe container and microwave on medium power (50%) for 1 1/2 minutes.
Remove and stir. If not melted, return the chocolate to the microwave and heat again, stirring every 30 seconds. When small lumps remain, remove from the microwave and continue stirring until the chocolate is smooth.
Add 1/4 teaspoon of peppermint extract and stir quickly.
Pour the chocolate onto the parchment paper, and spread out the chocolate, using a spatula, until it is about 1/8 inch thick. The chocolate does not need to cover the whole pan.
Place in the refrigerator until set, at least 15 minutes.
Meanwhile, place the unwrapped candy canes in a large Ziploc bag. Using a rolling pin, crush the candy canes, leaving some larger candy pieces. Set aside.
Repeat the melting process for the white chocolate.
Add 1/4 teaspoon of peppermint extract to the white chocolate, and stir quickly.
Pour the white chocolate over the dark chocolate. Use a spatula to spread out the chocolate and gently smooth the top of the chocolate.
Immediately sprinkle the top with the crushed candy canes. Gently push some of the candy canes pieces into the white chocolate.
Refrigerate again, until set.
Store in the refrigerator until ready to serve.
Cookies or Biscuits? http://www.cookiesorbiscuits.com/