Last year we started a new family tradition. Each year, we spend twelve days trying new foods. Most foods are new to us all, although occasionally one is something my love or I have tried. Today we started our twelve days with a little trip over the boarder to South America, with a Tres Leches Cake.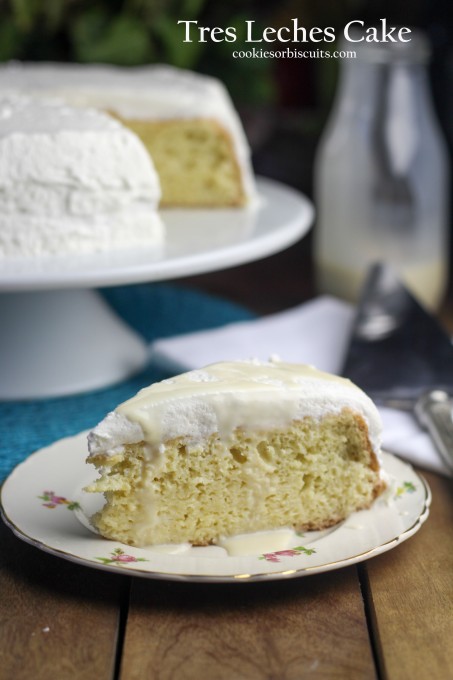 I saw a recipe for Tres Leches Cake a few months ago and was intrigued. I knew it had to go onto my list of new foods to try. My love asked me, "So what makes it different from a regular cake?". The answer to that is that it is soaked in three milks after the cake has been made. Tres Leches simply translates to Three Milks – so it's Three Milks Cake. It doesn't sound as fancy as Tres Leches Cake or even better – Pastel Tres Leches.
Those three milks are sweetened condensed milk, evaporated milk and heavy whipping cream.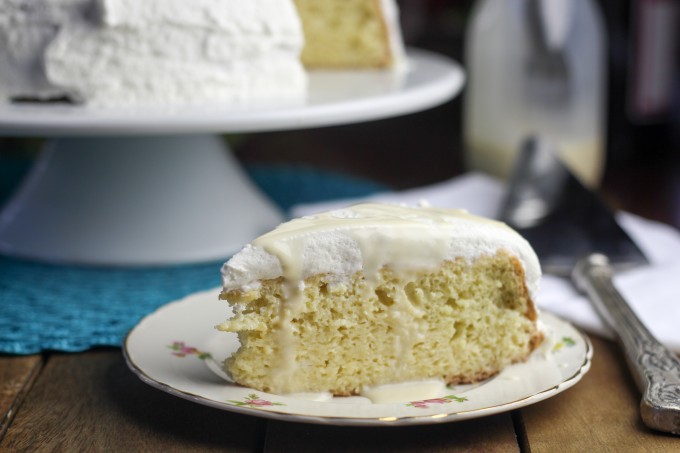 To make this cake, I first separated my eggs and got my flours ready. Egg whites tend to beat better at room temperature, however all the recipes I found didn't ask for this. I still separated my eggs first though, and gave them some time to warm up while I prepared everything else.
The flour mixture is, of course, gluten free. If you do not need to make this cake gluten free, you can use 1 cup of all purpose (plain) flour, 1 1/2 teaspoon baking powder and 1/4 teaspoon salt. You do not need any of the other flours or the egg replacer and xantham gum.
The preparation for this cake was pretty quick. I had both my large standing mixer working on beating the egg whites and my little electric hand beater working on the egg yolks. They both took about 4 minutes to get to the desired consistency.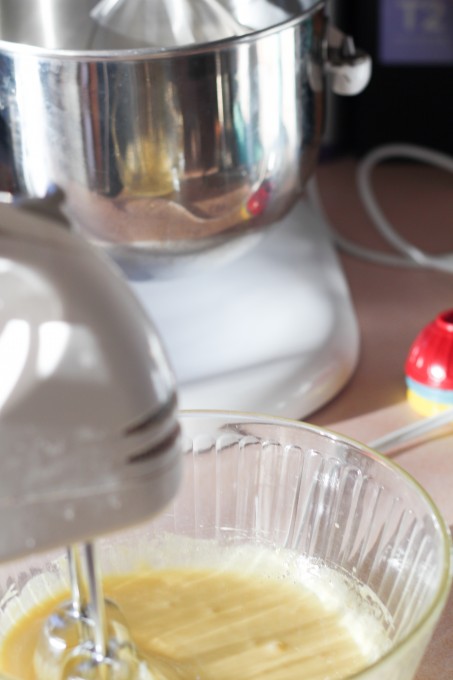 Those egg whites need to able to hold a firm peak – this means that if you lift the beater out of the mixture the peaks will stand firm.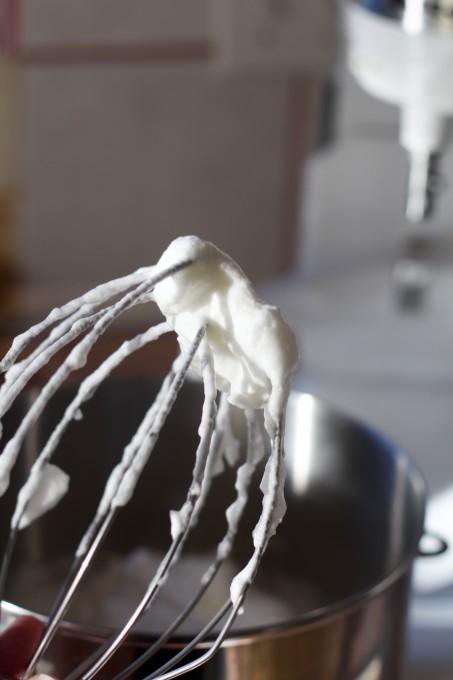 Once the egg mixtures are ready, you fold the egg whites and the flour alternately into the egg yolk mixture. The key word here is fold – use a wire whisk
if possible, and carefully fold the batter over until everything is combined. Beating the mixture will cause it to loose volume and you need that to keep the cake looking good.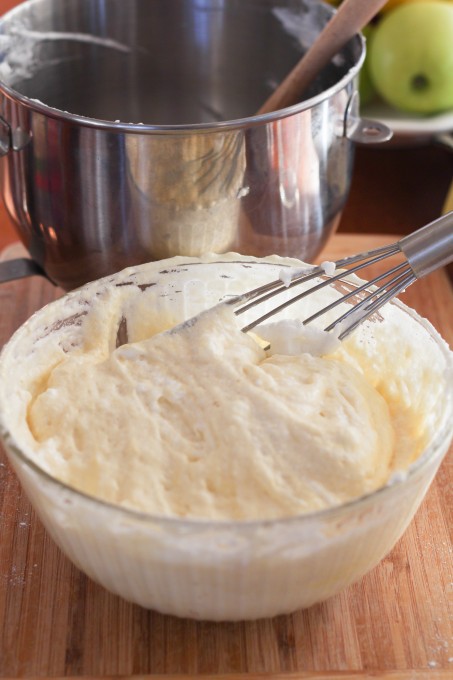 Pour the mixture into a greased 9″ springform pan or 9″ cake pan. Bake for about 20 minutes, until the cake is golden and a toothpick comes out clean.
While the cake is cooking, prepare the cream – it's the simplest part. Just mix the three milks – or tres leches – along with some vanilla extract. Many recipes also add 1/4 cup of brandy or liqueur such as Grand Marnier, however I wanted to keep mine kid friendly, so I skipped that step.
When the cake comes out of the oven, pierce it all over with a fork. Those holes are going to soak up the cream you just made! Pour 2 cups of the cream over the cake and allow to sit on the bench for 30 minutes.
When you are ready to serve, make some whipped cream and cover the cake.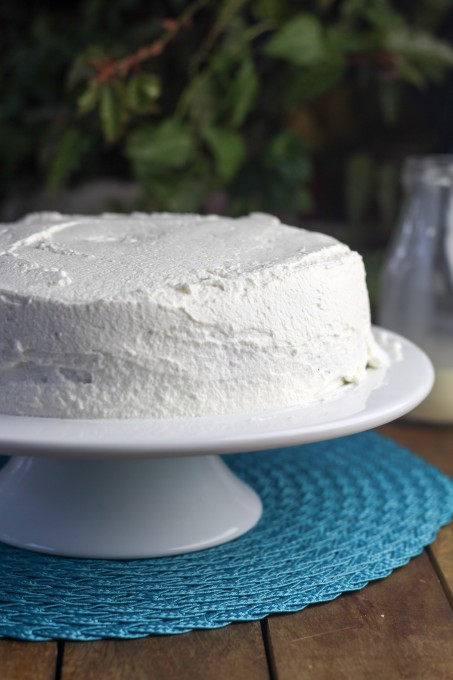 When you make the 3 milk cream, you are supposed to save the extra cream to serve with the cake. I tried, I really did. But somehow I managed to knock my bottle of cream over while I was putting the whipped cream on the cake. It went all over my table and floor so only two of us got to try extra Tres Leches. The others had it "plain" – or should that be "plainer"?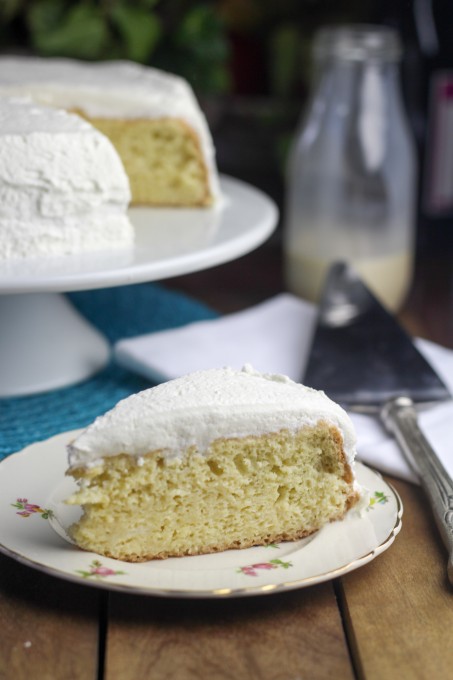 My verdict? It was delicious! It was one of the best textured gluten free cakes that I have eaten in quite a while and the sweetness of this cake was devine. And everyone agreed – all except the five year old. Of course.
Tres Leches Cake
2015-01-01 21:54:07
Ingredients
1/2 cup brown rice flower (75 g)
1/3 cup tapioca flour (35 g)
3 tablespoons arrowroot flour (30 g)
1/4 teaspoon salt
1 1/2 teaspoons baking powder
1/2 teaspoon egg replacer
1/2 teaspoon xanthan gum
6 large egg whites
6 large egg yolks
1/2 cup superfine sugar, divided
Cream
1 can (14 oz) Sweetened Condensed Milk
1 cup heavy whipping cream
2/3 cup Evaporated Milk
1 teaspoon vanilla extract
Topping
1 cup heavy whipping cream
1-2 tablespoons sugar
1/2 teaspoon vanilla extract
Instructions
Preheat the oven to 375°F. Grease and flour a 9 inch springform pan.
In a medium bowl, combine the brown rice flour, tapioca flour, arrowroot flour, salt, baking powder, egg replacer and xanthan gum.
Beat the egg whites and 1/4 cup of the superfine sugar in a large standing mixer until stiff peaks form, about 3-4 minutes.
Meanwhile, beat the egg yolks and the remaining 1/4 cup of superfine sugar in a large mixing bowl until they are light yellow in color, about 3-4 minutes.
Fold the egg white mixture and flour alternately into the egg yolk mixture.
Pour into the prepared springform pan.
Bake for 20 minutes or until the cake is just golden and a wooden toothpick inserted in the center comes out clean.
Remove from the oven to a wire rack.
Cream
Combine the sweetened condensed milk, heavy whipping cream, evaporated milk and vanilla extract in a medium bowl. Stir well.
Prick the top of the cake thoroughly with a fork.
Pour 2 cups of the cream on top of the cake.
Let stand for at least 30 minutes, or until the cake absorbs the cream.
Remove the sides of the springform pan.
Topping
Beat the cream, sugar and vanilla extract in a medium bowl until stiff peaks form. Spread over the top and sides of the cake.
Serve immediately with the remaining cream.
Cookies or Biscuits? http://www.cookiesorbiscuits.com/
My recipe has been adapted from the Nestle recipe.