For the last week and a half we have been having a new food in our house every day. I was seeking out a new dessert to make when I stumbled over this Coca-Cola cake. I didn't even know there was such a thing! It appealed to all my family – my husband is a coke drinker and my kids and I love chocolate – so it went onto our list of foods to try. I was slightly apprehensive, as I am not a fan of cola but I was pleasantly surprised when I tasted this cake. There was barely any cola taste, instead it was simply a very light and delicate chocolate cake. Honestly, I felt a little gypped as it was so close to a regular chocolate cake that it didn't really feel like we were tasting a new food.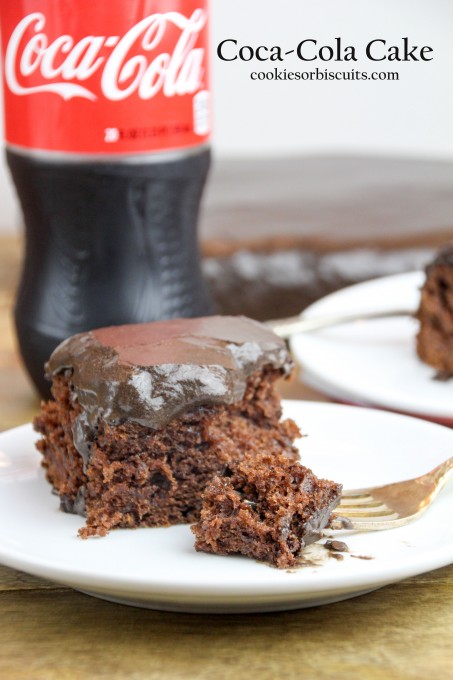 We've been travelling around the America's quite a bit with our new food adventure. The Tres Leches Cake was from South America. We've had Poutine from Canada, the Southern America favorite – Biscuits and Gravy, Moon Pies, Cornmeal Pancakes, Bison burgers and now this Coca Cola Cake. This cake is firmly rooted in the United States of America – how can it not be with the addition of Coke! – and all the information I could find online indicated that it is a Southern Food. Some of the most delicious and unhealthy food comes from the South – and this cake is right there along with that description. My love asked me if the Coke replaces some of the sugar used in a cake, to which I had to admit that it just added to the usual amounts!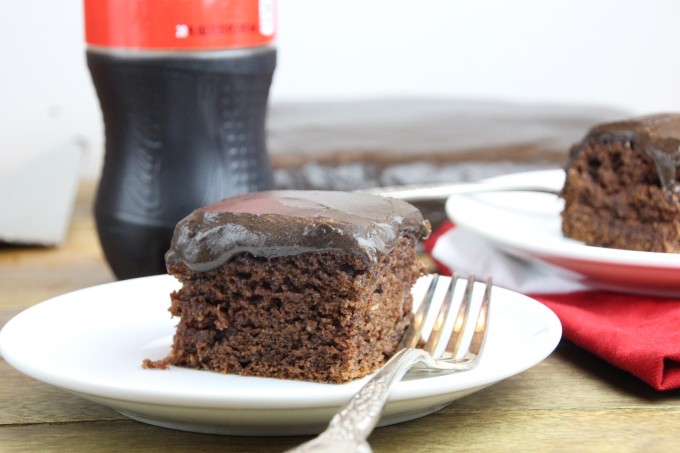 Chocolate is a sure winner for my youngest, so it was great to have a new food that he did not screw up his face about. To give him credit – he has tried a bite of every new food so far. A miracle, I do declare!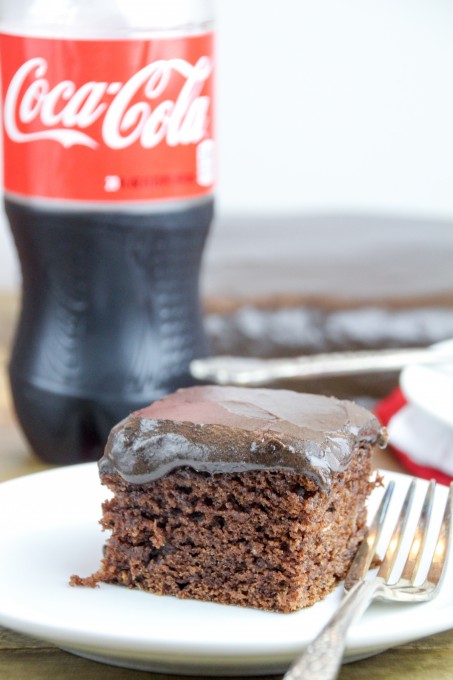 I was going to make this cake with my own blend of gluten free flours, but when I popped down to my local shops they were out of tapioca flour. However, there was a new gluten free blend for me to try. And I can never resist that! Today's new gluten free flour blend is Cup4Cup. I have used it a few times since making this cake, and so far I have been very happy with the results. It's definitely been the best pre-made blend I have ever used for making cakes. I suspect that this is because it uses powdered milk in it's ingredients. When baking with gluten free flours, I have found it helps to add a protein to help with building structure. I often will add egg replacer to my blend, but powdered milk is another option. It's more expensive than the Namaste Flour blend I often use, but it's a much lighter texture which helps with some recipes.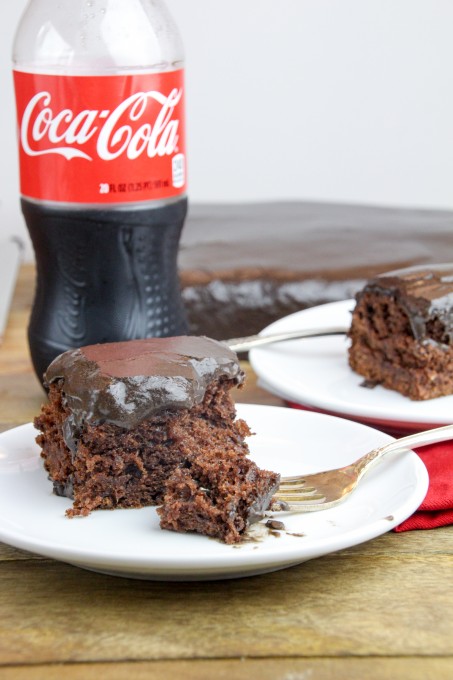 Overall, this cake was loved by all my family. My 5 year old has declared that this has been the best new food over the last 10 days. For me – it wasn't my favorite, but it was pretty good. I'll share some of my favorites over the next few weeks – as I'm planning on making them again!
Coca Cola Cake
2015-01-05 22:10:54
Ingredients
1 cup butter
1 cup Coca-Cola
2 cups sugar
2 cups plain flour or gluten free flour blend
2 eggs
1/2 cup unsweetened cocoa powder
1 teaspoon baking soda
1/2 cup buttermilk
1 1/2 teaspoons vanilla extract
Frosting
3 cups confectioners sugar
1/2 cup butter, at room temperature
1/2 cup Coca-Cola
1/2 cup unsweetened cocoa powder
1 teaspoon vanilla extract
Instructions
Preheat the over to 350°F and grease a rectangular 13x9 inch sheet cake pan.
In a large saucepan, combine the butter and Coca-Cola. Stirring regularly, bring the mixture to a boil.
Remove from the heat and add the flour and sugar. Stir to combine.
Add the eggs, cocoa powder, baking soda, buttermilk and vanilla. Mix by hand until well blended.
Pour into the greased cake pan and bake for 30 minutes or until a tooth pick inserted in the center comes out clean.
Frosting
In a large bowl, cream the butter.
Add the Coca-Cola, cocoa powder and vanilla and stir to combine.
Gradually beat in the powdered sugar.
Cookies or Biscuits? http://www.cookiesorbiscuits.com/
This cake has been altered from a recipe I found on the CocaCola Company website.