Last time we were home in Australia, Mum announced that she had made "my turkey burgers" for dinner. I looked at her with confusion, as I rarely make turkey burgers. It turned out that I made these turkey burgers a couple of times when Mum & Dad visited years ago, and ever since my parents have referred to them as my turkey burgers.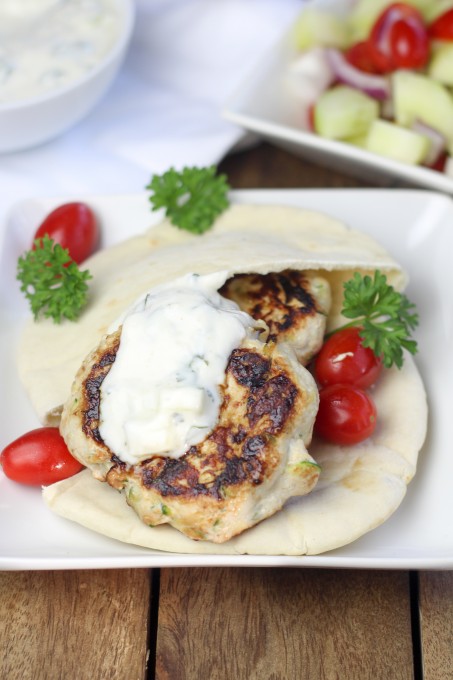 Turkey is no where near as popular in Australia as it is in America. It's obviously available now, however I don't remember seeing turkey in the shops when I lived there 13 years ago. Either that, or I just ignored that strange meat. Since moving to America I have come to love the flavor. I tried it first as a part of Thanksgiving meal, and then I heard that it was a healthier alternative to ground beef. So I started using ground turkey in some of my recipes. I stumbled over this particular recipe in a Weight Watchers cookbook. They were originally Spicy Turkey Burgers, but I have altered it to make it more aligned to my children's tastes, who have a hard time tolerating spices (so far anyway – I keep on working on it but not with this meal!).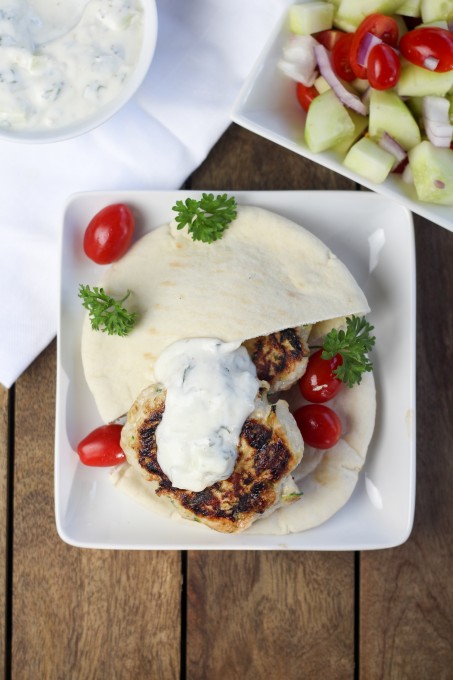 There are a few ways that I like to serve this meal. This time around, for a Greek feel, I served this with pita bread and a side salad of chopped cucumber, tomato & red onion. We sometimes just make these on regular hamburger buns, with all the regular fixings. I have a hard time choosing which way I like best. I'm sure you could come up with other ways too!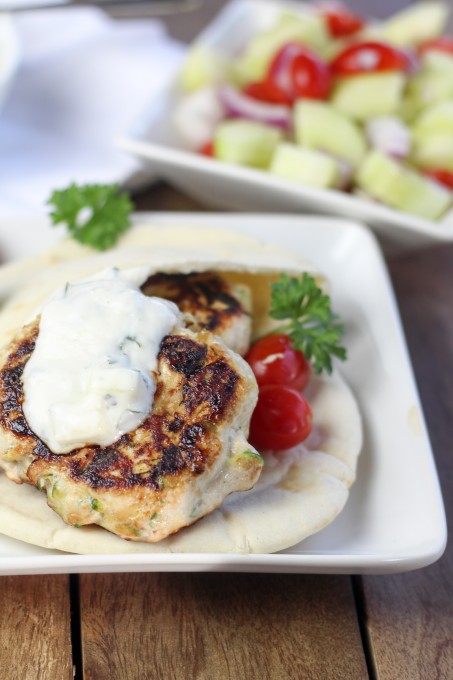 If you are trying to sneak vegetables into your family's meal, this is a great way! There is grated zucchini inside and depending on how finely I grate the zucchini, my 6 year old will eat this without blinking an eye. Yet if I try to serve zucchini plain, all I get is complaining. I love being able to sneak vegetables into dinner. To be honest, my kids are not too bad with eating their vegetables, but zucchini is one that they usually all refuse to eat.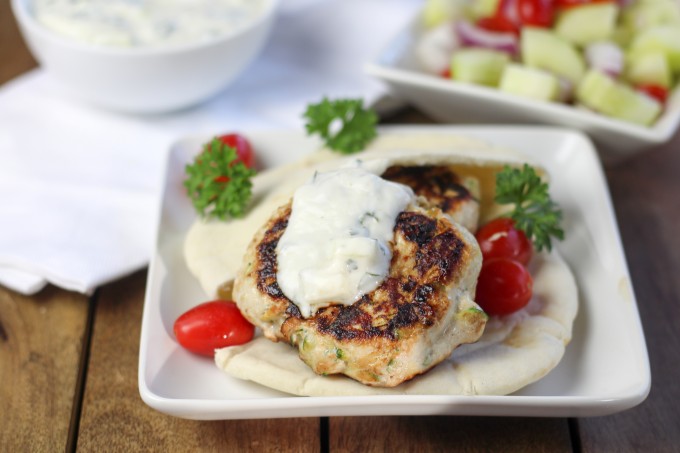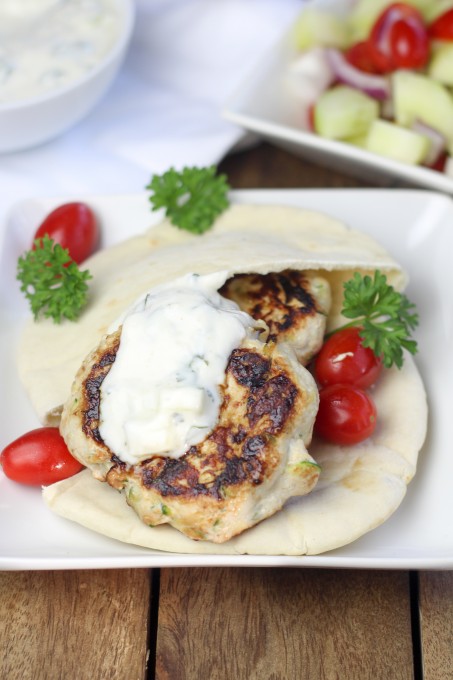 Turkey Burgers with Yogurt Sauce
2015-05-10 20:55:29
Ingredients
1 lb ground turkey breast
1 small zucchini, finely grated
1 tablespoon, grated onion
1 tablespoon cilantro, finely chopped
1 teaspoon olive oil, for frying
Yogurt Sauce
1/2 cup plain yogurt
1/4 cup cucumber, peeled, seeded and diced
1 garlic clove, minced
1 1/2 teaspoon lime juice
Turkey Burgers
Combine the ground turkey, zucchini, onion and cilantro in a bowl until well mixed. Shape into 6-8 patties.
Heat 1 teaspoon olive oil in a frying pan over medium-high heat. Add the burgers and cook for about 10-12 minutes, turning half way through the cooking time. Burgers are cooked when they are no longer pink in the middle or a meat thermometer reaches at least 160°F.
Yogurt Sauce
In a small bowl, combine the yogurt, cucumber, minced garlic and lime juice. Serve with the turkey burgers.
Cookies or Biscuits? http://www.cookiesorbiscuits.com/