Did you know that May is Healthy Vision Month? I know, I know, there seems to be a month or day for nearly everything you could possibly dream of! Did you know that today, May 14, is also National Dance Like a Chicken Day, National Buttermilk Biscuit Day and National Underground America Day! Let's all take a moment to dance like chickens in honor of today. I've really gone on a tangent here, so let's go back to Healthy Vision Month.
One part of helping keep your vision healthy is eating healthy foods! So, I have made this Asian Chicken Salad in honor of Healthy Vision Month and a part of the #EatRightForYourSight campaign by the American Macular Degeneration Foundation.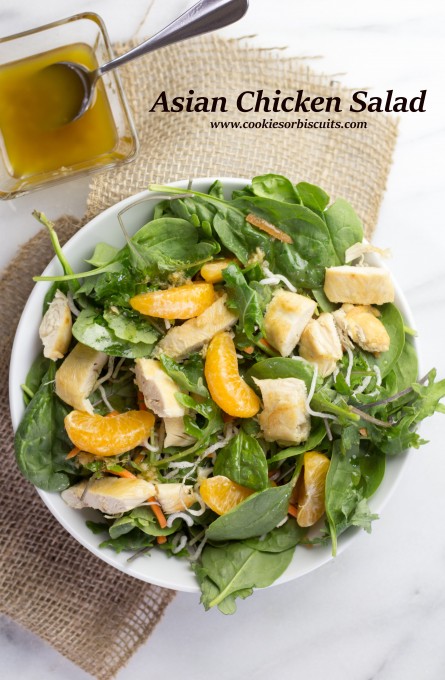 Healthy vision is near and dear to my heart, as my husband's family has a strong family history of Macular degeneration, one of the leading causes of age related blindness. Studies have shown that foods rich in zeaxanthin and lutein can help maintain healthy vision and reduce the risk of macular degeneration. I chose to make this Asian Chicken Salad as it is not only delicious, but it is full of spinach, carrot, kale and tangerines – all ingredients which are high in zeaxanthin and lutein.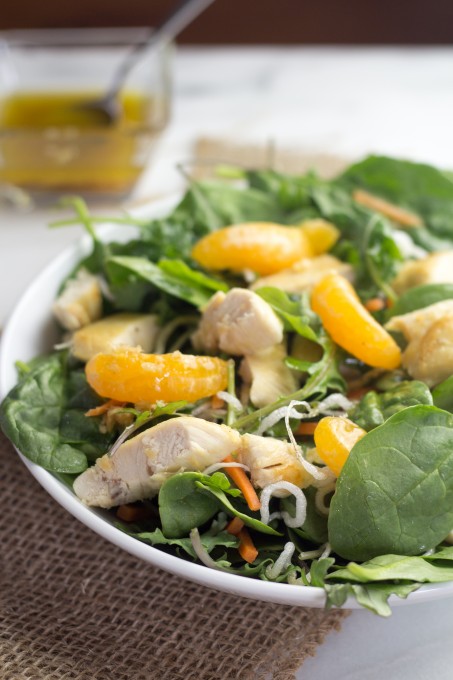 My love's grandma was the most amazing, strong and caring woman, who went mostly blind in her 40's. You would never have known she was blind unless you were told, as she managed to move around her house like a pro and would make direct eye contact even though she couldn't see you. She was full of life and love and it was a great honor to know her for the time that I did. This is a photo of her holding my eldest child, on one of our visits back to Australia. While I would not have changed who she is, I would like to think that with advances in research and increased knowledge of how food fuels our bodies, others in my family can make healthy food choices which can help reduce the risk of suffering from the blindness that she experienced.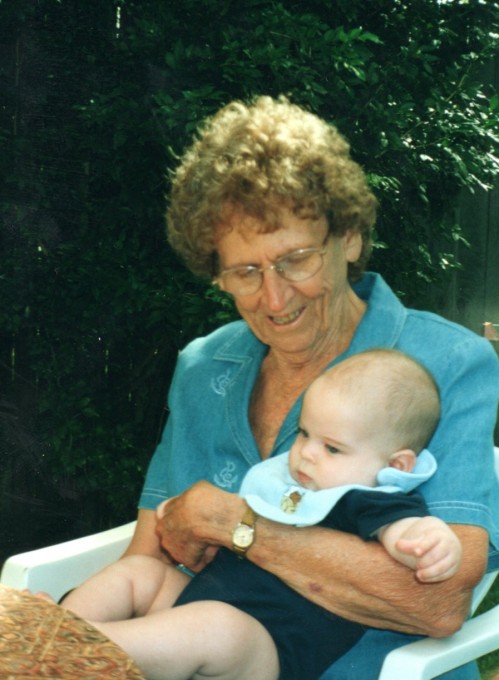 If you would like more information about Macular Degeneration, you can go to the American Macular Degeneration Foundation. The website has detailed information about the disease and the support you can get if you or a loved one is at risk or diagnosed with Macular Degeneration.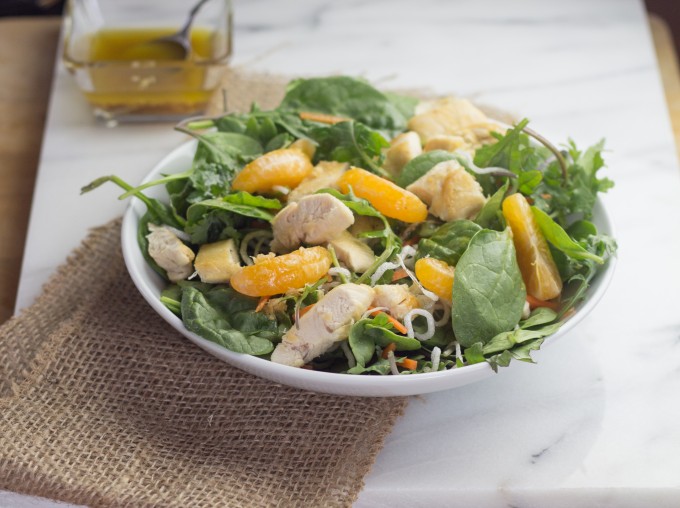 On a little side note – we know that carrots contain eye healthy ingredients but it's not true that they improve your night vision! I only discovered this the other week and thought it was so funny that I had to share. The whole carrot and night vision myth comes from a WWII propaganda campaign. During the war, Germany often bombed England during the night. However, the Royal Air Force developed a new radar system which allowed them to intercept the German bombers before they reached the English channel. Part of the ruse to keep this new secret technology from the Germans, was the carrot campaign. All over England, advertisements appeared which encouraged eating carrots to improve Night Vision. It was made to appear that pilots were eating a lot of carrots, and that is why they were able to down so many German planes at night! I'm not sure if the German's believed it or not – but the English general population apparently did and the consumption of carrots increased after the campaign. Carrots were also promoted as a sweetener with the rationing of sugar, and, not surprisingly, carrot cake became quite popular during the war years.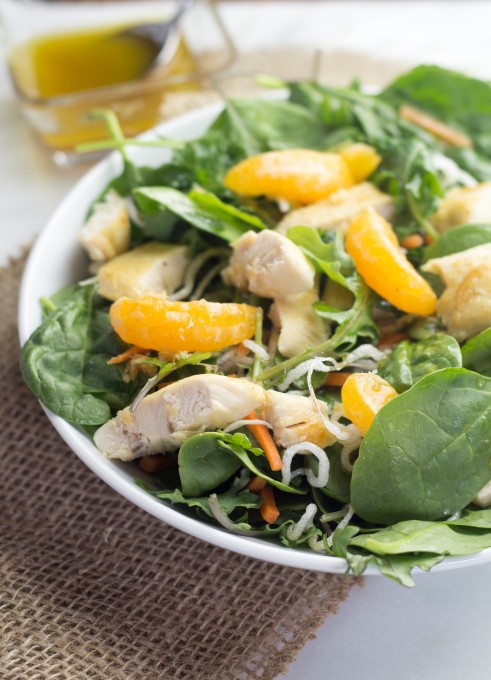 This recipe makes a large salad for 2, although you may have some dressing left over if you like your dressing put on lightly. Just a quick Australian/American note for you – green onions in America are called shallots or spring onions in Australia.
Also, the Asian Dressing asks you to slow add the oil, whisking constantly. This is so that the oil will emulsify. Don't worry if it doesn't emulsify – the dressing will still taste great but the oil will not have combined. Just pour it all in and toss, and nobody will ever know! I would guess that I get it right only about 50% of the time 🙂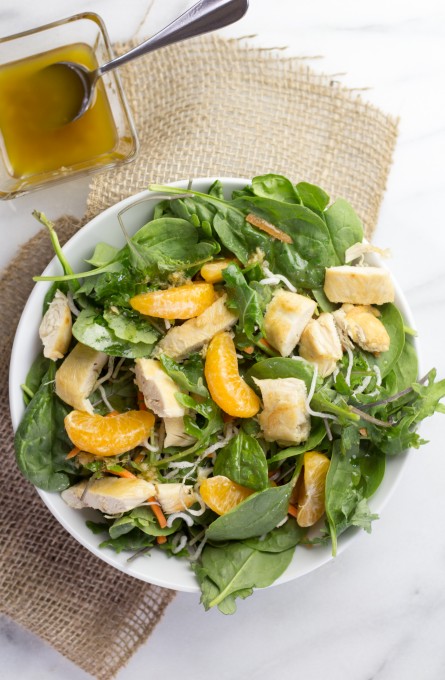 Asian Chicken Salad
2015-05-14 13:41:41
Ingredients
4 chicken tenders
1/2 cup saifun bean threads
oil for frying
2 cups baby kale
2 cups baby spinach
2 green onions
1 small mandarin orange
1/2 cup shredded carrot
Asian Dressing
1/2 teaspoon garlic, minced
1 teaspoon ginger, minced
1 teaspoon soy sauce or tamari sauce
2 tablespoons rice vinegar
1 teaspoon sugar
1 teaspoon sesame seed oil
1/4 cup extra virgin olive oil
Instructions
Heat 1 teaspoon oil in a frying pan over medium-high heat. Add the chicken tenders and cook for about 5 minutes, turning half way through the cooking time. The tenders are cooked when they are no longer pink in the middle or a meat thermometer reaches 160°F.
Remove the chicken tenders from the heat and set aside.
Add more oil to the frying pan, enough to cover the bottom of the frying pan. In very small batches cook the saifun bean threads until they puff up. Remove the bean threads before they turn brown, and set aside on paper toweling.
Put the salad together by tossing the kale, spinach, green onions, mandarin orange, shredded carrot, fried bean threads and fried chicken.
Serve with Asian dressing, as found in recipe below.
Asian Dressing
Mix the garlic, ginger, soy sauce, rice vinegar and sugar together in a bowl or food processor.
Slowly drizzle the sesame seed oil and olive oil into the mixture, whisking constantly (or leave the food processor running).
Serve immediately or refrigerate covered for up to 1 week.
Cookies or Biscuits? http://www.cookiesorbiscuits.com/