It's St Patrick's Day on Monday. To tell you the truth, I've never really gotten into St Patrick's Day. But I have a 10 year old daughter who made a leprechaun trap last year and cried the next morning when there were no coins in the trap. No one told me about this tradition – and she didn't tell me that when a leprechaun escapes, he accidentally drops some coins. So this year, I thought I'd better do something.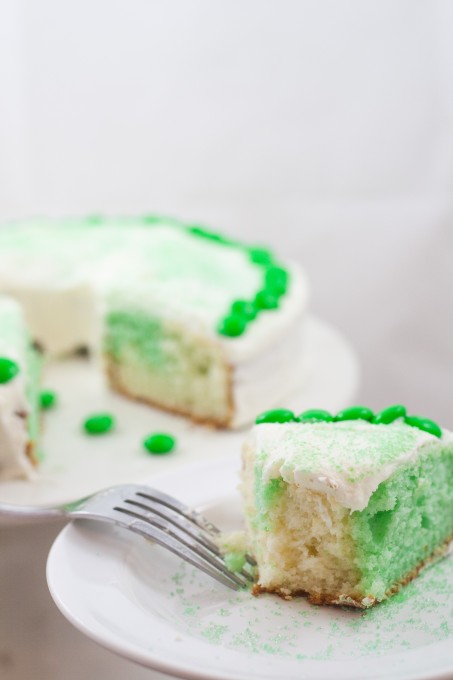 Enter the Green and White Cake! Because everything can be fixed with food, right?
This is a variation on a cake recipe I was given by my Mum. My mum was a Home Economics teacher, and has a wonderful collection of recipes from her days at teacher's college in the 60's. The original recipe is for a pink and white cake. You can really do any color you want – maybe if the Seahawks make it to Superbowl again next year I could do a green and blue cake. (Yes – I'm dreaming!)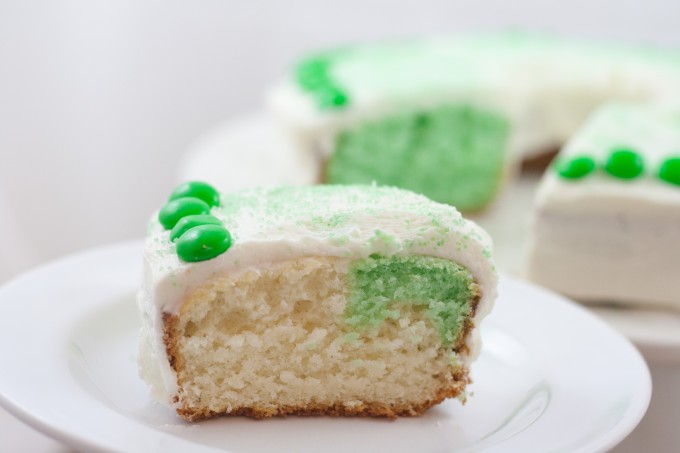 Making this cake is easier than it looks. You simply make the cake batter, and then spoon half of it into the cake pan leaving gaps for the color. You then color the batter with a few drops of food coloring, and spoon it into the gaps.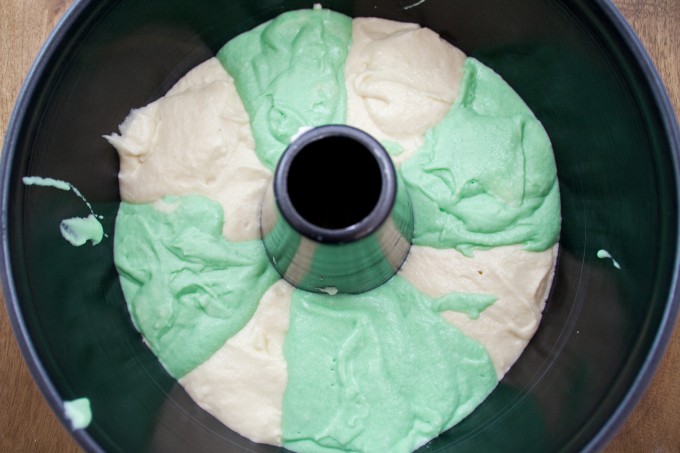 The results are a light, airy cake which changes colors throughout. The cake appears white, as the batter is made from egg whites rather than the whole egg. Perhaps you could make some custard with the yolks! Or soon I'll be sharing my Mum's Gold Cake which is made with egg yolks.
So now we have a St Patrick's Day Cake. Let's just hope it's good enough for a 10 year old! I'll find out today.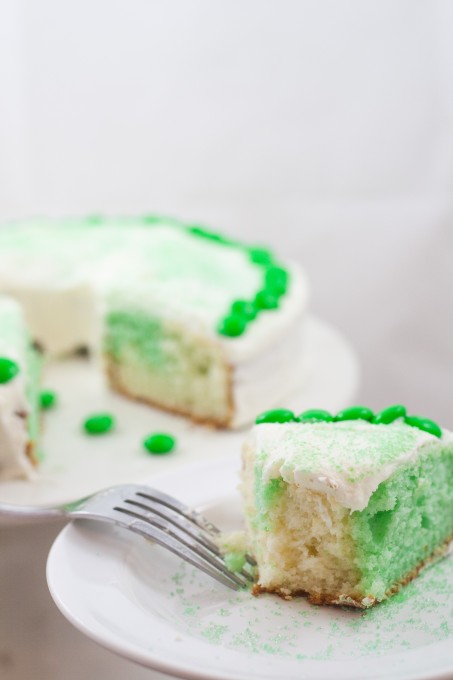 Green and White Cake
2014-03-13 23:43:08
Ingredients
4 oz (1 stick) butter
3/4 cup sugar
3 egg whites
1 1/2 cups plain flour
2 1/2 teaspoons baking powder
1/2 teaspoon salt
3/4 cup milk
4-5 drops green coloring
Instructions
Preheat the oven to 350°F. Grease an angel food cake pan.
In a medium bowl, beat the egg whites until stiff peaks form, about 5 minutes.
Cream the butter and sugar in an electric stand mixer, on a medium speed.
Add the stiffly beaten eggs and continue to beat the mixture for another 2-3 minutes.
Combine the flour, baking powder and salt in a small bowl.
Add half the flour and half the milk and continue to beat the batter until combined.
Add the remainder of the flour and milk and beat until combined.
Place half the mixture in the greased angel food cake pan, leaving spaces for the green cake mixture. Color the rest of cake batter with green coloring and fill in spaces.
Tap the cake pan lightly on the bench to blend the colors.
Bake in the oven for approximately 30-35 minutes, or until a toothpick comes out clean. Allow the cake to cool on a wire cake rack.
When the cake is cold, cover the cake with frosting and decorate as desired.
Cookies or Biscuits? http://www.cookiesorbiscuits.com/