I had these roasted vegetable and cheese quesadillas for lunch yesterday, and they were good!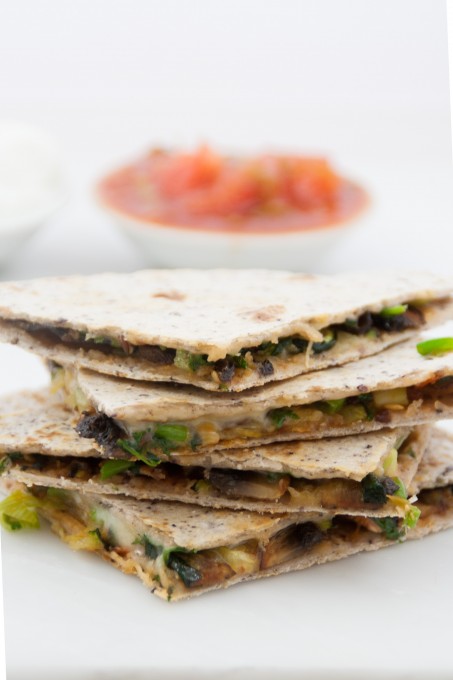 I'm one of those people who get stuck in a rut with lunches. I hate to admit it, but I'd be happy eating a Roast Beef and Cheese sandwich every day. Forever. I'll sometimes have a salad with that, but a piece of fruit will do on a busy day. Lunches are often a rushed meal in my house. I have a preschooler who gets home at lunch time wants to be fed now. I've got things that have to be done and I'm hungry too, so I often fall back to the old familiar sandwich. But I have challenged myself to do something different every now and then.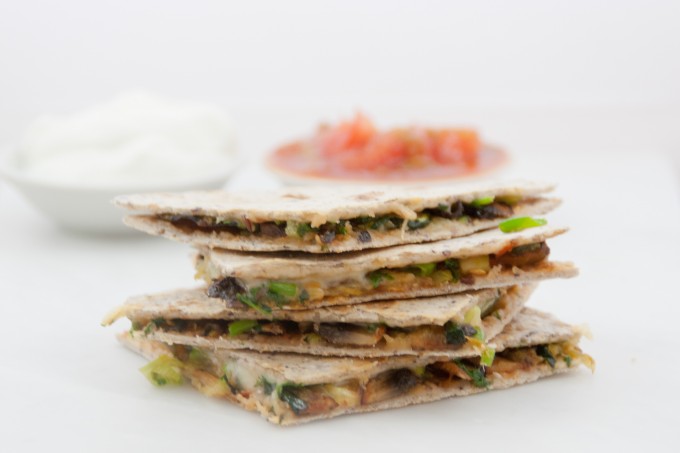 These roasted vegetable and cheese quesadillas were a great solution for my schedule. I was able to broil the vegetables while I was making the little one's lunch. Once he had his mouth full, I pulled together the quesadilla.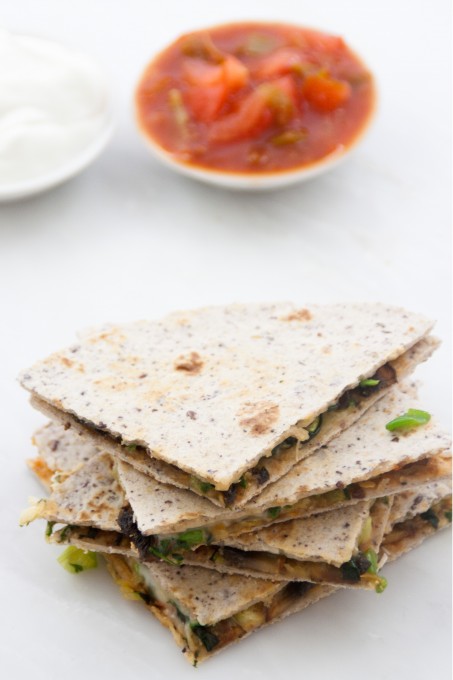 I used Mission Artisan Style Flaxseed & Blue Corn Blend Tortillas, but any type will work. This quesadilla was wonderful dipped in salsa and cream cheese.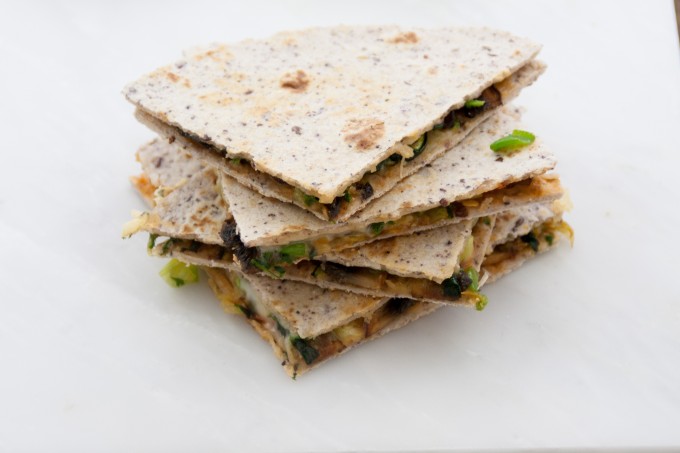 Maybe I have a new lunch rut I could get stuck in? No, no, no! I must try something new!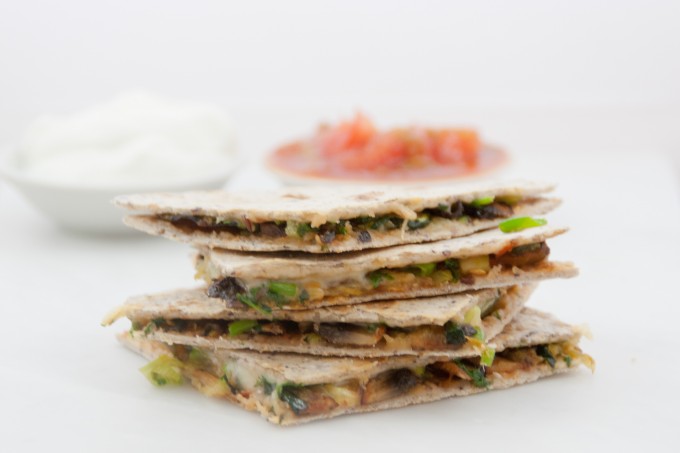 Roasted Vegetable and Cheese Quesadillas
2014-03-14 11:52:27
Ingredients
4 tortillas (8 inch)
1 zucchini, thinly sliced
2 small white mushrooms (or other of choice)
1/2 bell pepper, diced
2 tablespoon prepared salsa
4 tablespoons Parmesan cheese
2 tablespoons fresh parsley
Salsa for dipping (optional)
Sour Cream for dipping (optional)
Instructions
Preheat the broiler on high. Spray a baking sheet with cooking spray.
Spread the zucchini, bell peppers and mushrooms in a single layer on the baking sheet. Lightly spray the vegetables with cooking spray.
Broil the vegetables for about 6 minutes or until the zucchini is starting to turn brown. Turn once or twice during the broiling.
Cover two of the tortillas with the salsa. Sprinkle 1/2 the Parmesan cheese and 1/2 the parsley on each tortilla. Divide the roasted vegetables between the two tortillas. Cover the tortillas with the remaining tortillas.
Spray a large skillet with nonstick cooking spray. Over a medium heat, place one tortilla in the skillet and cook until the cheese starts to melt - about 2-3 minutes. The underside of the tortilla should be starting to turn golden brown. Flip the tortilla over and cook until the tortilla is crisp and golden brown - about 1-2 minutes.
Keep the first tortilla warm while you cook the second.
Serve with salsa and sour cream.
Adapted from Weight Watchers Ready, Set, Go! Cookbook
Adapted from Weight Watchers Ready, Set, Go! Cookbook
Cookies or Biscuits? http://www.cookiesorbiscuits.com/