Another salad! Miracles do happen. Actually, it's more so that I've been eating so much chocolate after Easter that I couldn't stand looking at a baked good today. This Sweet Potato and Lavender Salad was just what I was craving, so you get to see this delightful salad.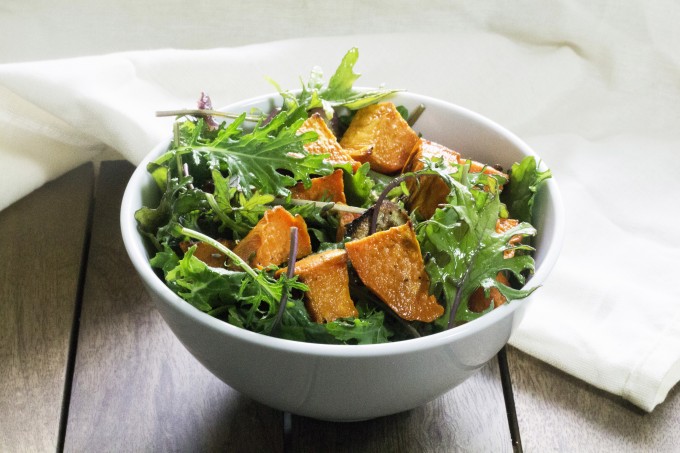 Normally, I would not use Lavender in this salad. However, a few weekends ago my family went to the Tulip Festival in Washington State. Nearby was a delightful little town called La Conner. It was truly a dream town for me, as it was full of antiques, kitchen shops and restaurants. I told my love that the next time my parents are visiting, we need to come back to La Conner for the weekend without the kids. Obviously I'm not the only one who thinks so, as apparently it's often voted as the most perfect Weekend Getaways in Washington State. And yet, it wasn't overly crowded. Perfect. The point of telling you all of this is there was a Lavender Shop in La Conner and I picked up some culinary Lavender. I was itching to use it, and this Sweet Potato Salad seemed like a great place to try it. If you don't have lavender, and many of us don't, then just skip it or use Rosemary.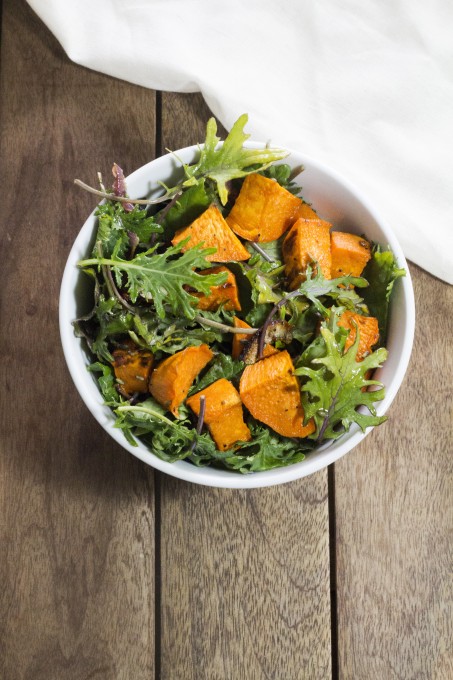 I first tried a Sweet Potato salad in Australia the last time we visited and wanted to make my own. The following Thanksgiving, Whole Foods Market came out with a recipe which I now use every Thanksgiving. This recipe is an adaption of the Whole Foods Recipe. Even though they have it in their Thanksgiving collection, I think that this is a perfect spring salad. Just make sure you chill the sweet potato after cooking it.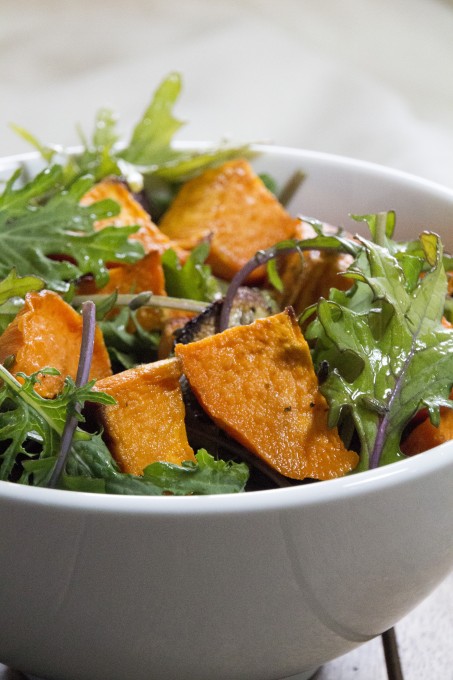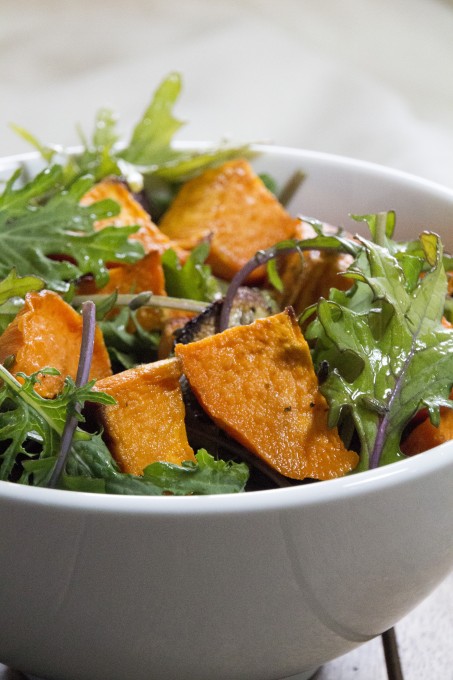 Sweet Potato and Lavender Salad
2014-04-23 13:46:34
Ingredients
1 sweet potato (about 12 oz)
1/2 red onion
1 teaspoon olive oil
1/2 teaspoon dried culinary lavender
1/4 teaspoon ground pepper
4 cups baby kale
Vinaigrette
1/2 cup balsamic vinegar
1/4 cup honey
1 tablespoon dried culinary lavender
Instructions
Preheat the oven to 400° F and line a baking tray with parchment paper.
In a medium bowl, toss the sweet potato, onion, pepper, lavender and oil. Lay the sweet potato and onion on the parchment paper in a single layer. Bake for 35-40 minutes, or until the sweet potato is tender.
While the sweet potato is baking, make the vinaigrette. Whisk the vinegar, honey and lavender together. Keep vinaigrette in the refrigerator until ready to serve. This may be made a day early if desired.
Cool the roasted sweet potato in the refrigerator. Right before serving, toss the sweet potato with the kale and vinaigrette.
Cookies or Biscuits? http://www.cookiesorbiscuits.com/