Ham and Cheese Sandwiches seem like a strange thing to write about: just whack some ham and cheese in between two slices of bread and toast, right? That works – and it's often what happens in our house. But sometimes it's nice to appear a little grown up now and then. With just a few simple, but delicious changes you can have a fancier Toasted Ham and Cheese Sandwich – without much more effort.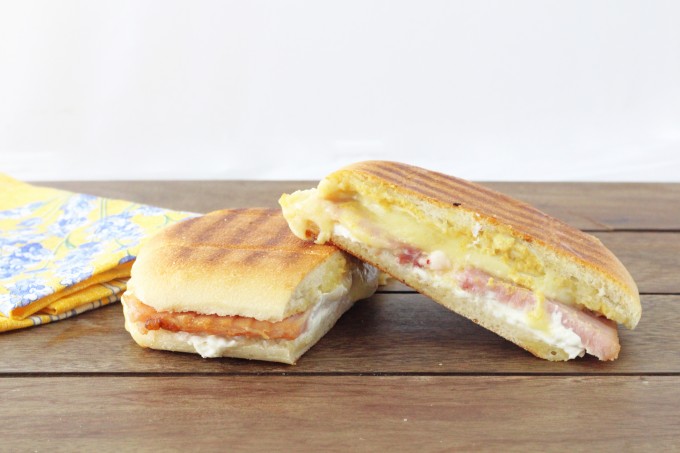 The lastest issue of Fine Cooking
inspired me to make and photograph some sandwiches. One day, I aspire to have be able to take beautiful photographs like in the magazines but for now you'll just have to deal with my photography skills. I love the photos which just make you want to eat the sandwich – right now! I'm actually going to a photography class next month, which I'm really excited about so hopefully you'll see an improvement in my pictures! Or maybe you won't – it's a wine tasting and photography class. If the wine tasting happens first, my memory might not be so good 🙂 I'm hoping to find a sweet wine that I can call my own.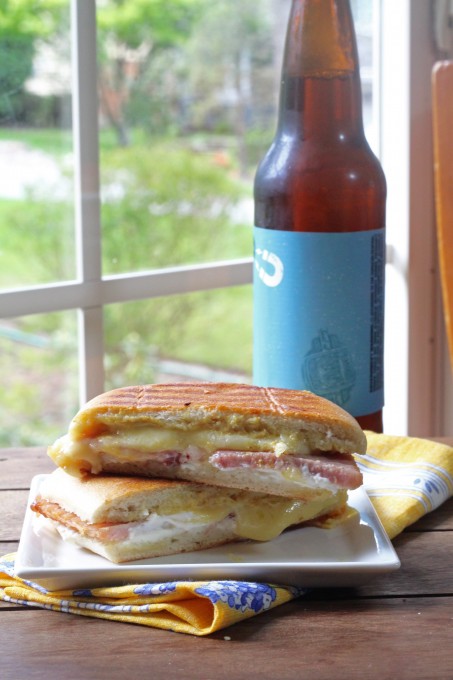 Back to this Ham and Cheese Sandwich. The first step is to find a nice bread. I chose to use a take and bake Telera roll – simply because they were available at my local store and looked good. Any bread will do though – I think some nice thick slices of French or Italian bread would be perfect. I chose to add cream cheese and mustard to my ham and cheese sandwich. I love the extra cheesiness that cream cheese adds to a sandwich. The mustard gives the sandwich a boldness which was missing beforehand. Grill it in a panini grill for about 5 minutes (the broiler works too!), and you have a sandwich full of cheesy goodness and you've used up some left over ham. Perfect!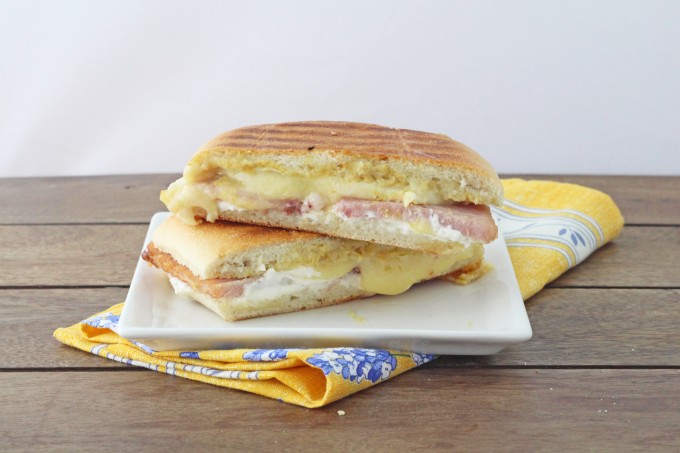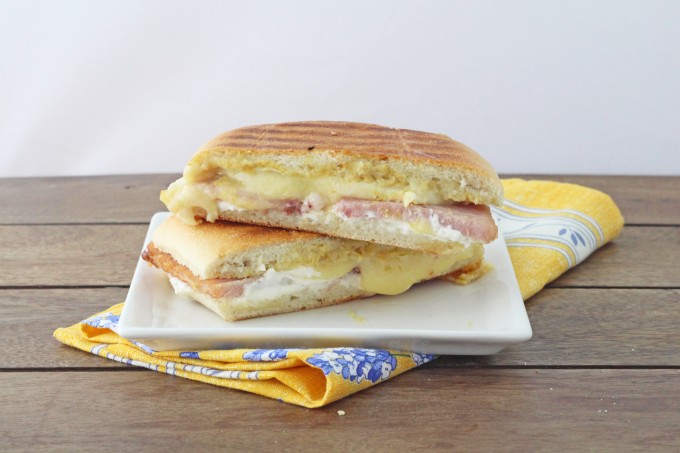 Toasted Ham & Cheese Sandwich
2014-04-23 16:10:06
Ingredients
1 bread roll
1-2 slices ham
1-2 slices cheddar cheese
1 tablespoon cream cheese
1/2 teaspoon dijon mustard
Instructions
Preheat the panini grill or broiler.
Split the bread roll in half, and spread the cream cheese on one side. Spread the mustard on the second side.
Layer the ham and cheese on cream cheese.
Close the bread roll and place in the panini grill. If desired, you can brush the bread roll with olive oil or butter to give it a golden toasted appearance.
Close the grill, and cook for 5 minutes or until the cheese is melting.
Cookies or Biscuits? http://www.cookiesorbiscuits.com/