April 25th is ANZAC Day. If you are from Australia or New Zealand, you know exactly what I'm talking about. ANZAC stands for Australia New Zealand Army Corps. Anzac Day is the equivalent of Memorial Day in the USA. It's the day we commemorate those who have served and died in all wars, conflicts and peacekeeping operations.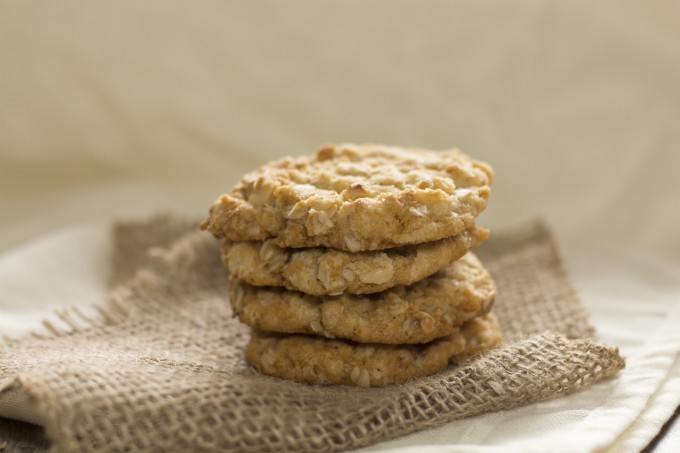 So, what do ANZAC cookies (or biscuits) have to do with ANZAC Day? Technically there is no connection between the cookies and the day, except the name. We do not traditionally eat ANZAC cookies on ANZAC day – they are eaten all year long. The name came about because during the 1st World War, the women at home wanted to send something to their menfolk on the war front. It needed to be something that would would not spoil during transportation. The omission of eggs helped these cookies stay fresh.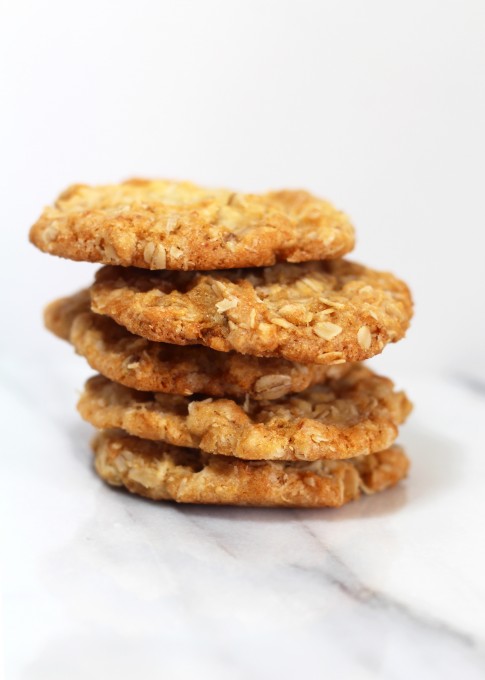 These cookies are very easy to make. They are so easy that my eldest son is planning on using these for his 6th grade cooking demonstration for Food Sciences. All of the ingredients are placed in a bowl, mixed together and then rolled into balls.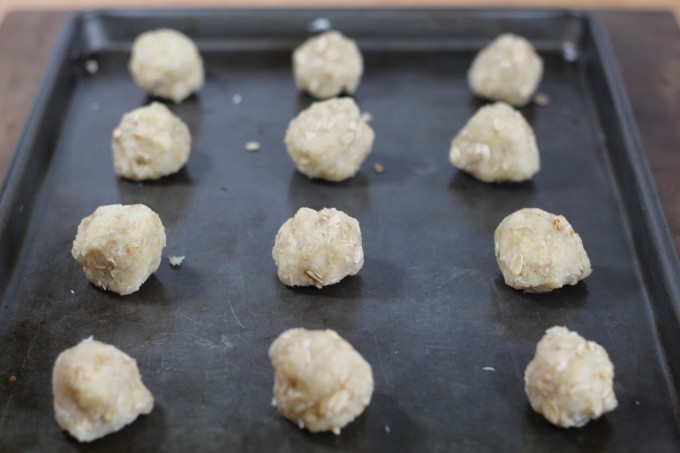 The cookies are then pressed down, using a floured fork and baked in the oven for 15 minutes. This is the time some complexity can occur. If you like soft cookies – you bake your cookies until they are just golden – which may be a minute or two less. If you are like my father, and like the cookies to be hard and crunchy, you might like to leave the cookies in for another minute. My oven does not cook evenly, so I just find that I can put one tray on the top rack and one on the middle rack. That way, one is soft and one is a little crunchy – meeting the cookies crunching desires of all my family!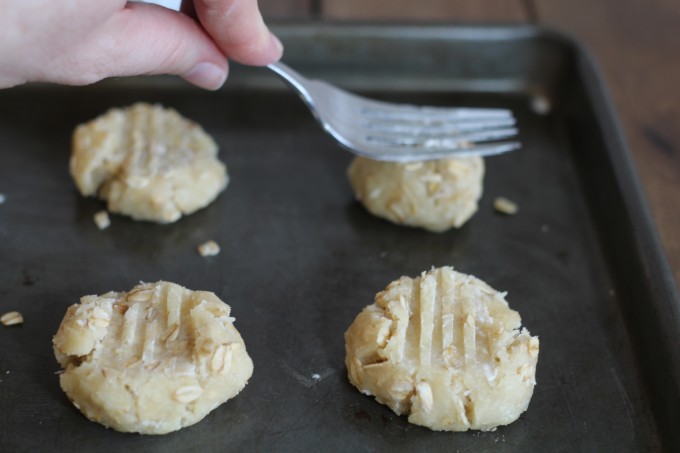 This batch have just come out of the oven – they are my soft cookies. They are golden, but not too dark. They will become more crunchy as they cool, but as they are still a little pale they will retain some softness when you bite them – just how I like them.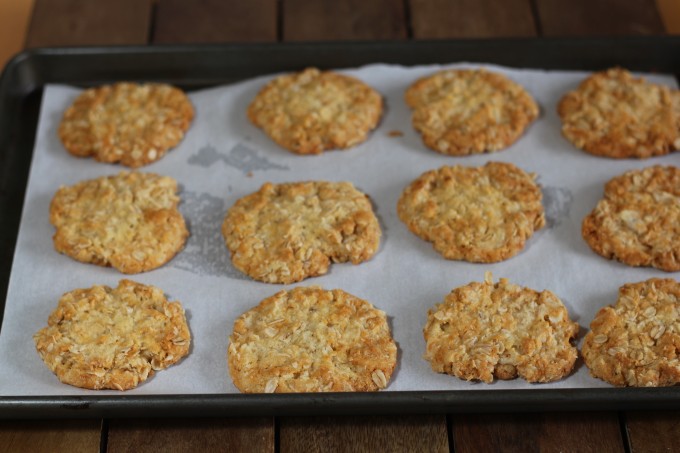 From the history above, you can guess that these cookies are going to keep fresh for weeks! But I sincerely doubt you'll have a chance to test that.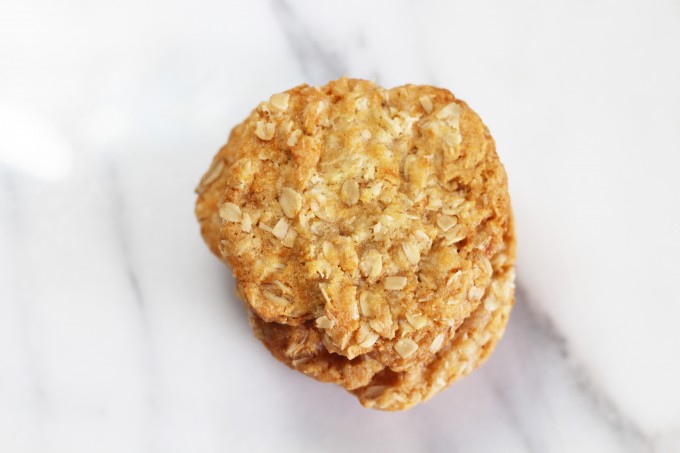 These can easily be adapted to become gluten free – choose a gluten free all purpose flour blend, and Gluten Free Oats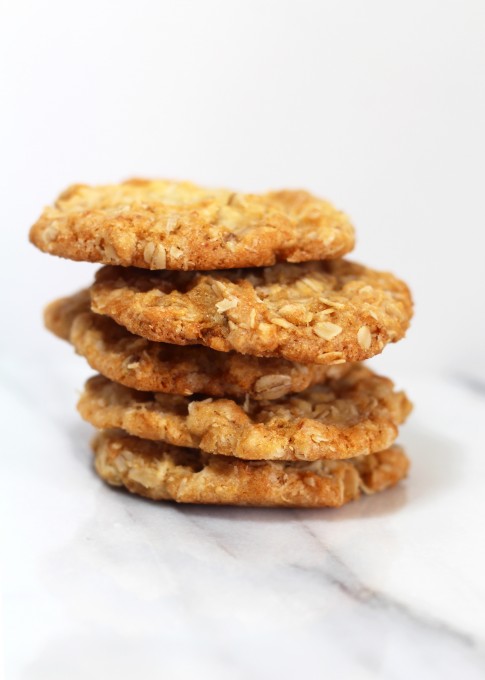 Anzac Cookies
2014-04-22 23:58:32
Ingredients
½ teaspoon baking soda
2 tablespoons boiling water
1 cup all-purpose flour
1 cup old fashioned rolled oats
1 cup sugar
1 cup coconut, unsweetened shredded
2 tablespoons golden syrup
4oz butter, melted
Instructions
Preheat the oven to 350° F (180° C) and line a baking tray with parchment paper.
In a large bowl, mix the baking soda with the boiling water, and stir until dissolved.
Add the flour, rolled oats, sugar, coconut, golden syrup and melted butter to the large bowl.
Using a tablespoon, scoop up a spoon of dough and roll the mixture into 1 inch balls. Place each ball on the parchment paper, with about 2 inches of space between each one. Flatten the balls with a floured fork.
Bake in oven for 15 minutes or until golden.
Remove the cookies from the oven, and allow them to cool on a cooling rack.
Cookies or Biscuits? http://www.cookiesorbiscuits.com/