I'm a vanilla girl. Give me the choice between vanilla and chocolate and vanilla will win every time. So imagine my delight when I discovered that you can make your own vanilla extract. I've been making my own for about a year now and I have to question why I never made it before. It is so easy, made simply from vanilla beans and alcohol. You just have to keep topping up the alcohol to get an endless supply.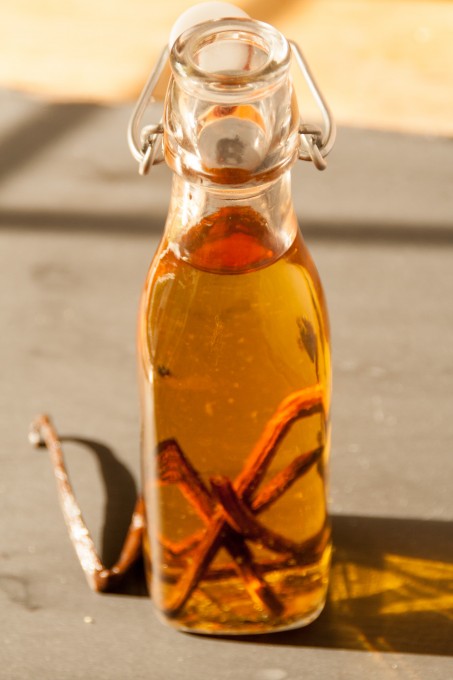 I love the smell of my own vanilla extract too. When I open the bottle of vanilla beans, that vanilla smell wafts out and I'm in love. You have to steep your vanilla the first time you make the extract. Each day the smell gets stronger so there were many days when I just opened the lid to get a smell.
The wonderful thing about vanilla essence is that you do not waste a vanilla bean after using it in a recipe. I use my vanilla beans when I make custard and then rinse them off and use them for my vanilla essence. Other recipes you could use the vanilla beans in are vanilla ice-cream or vanilla sugar. You can also just open up the beans with the tip of a sharp knife, and pop them straight into your alcohol.
Vodka is a good choice for making vanilla extract as it is a neutral base, which brings out the full flavor of the vanilla. But bourbon or rum also can be used for a different taste.
I have a working bottle of vanilla extract, meaning that I just keep topping up my bottle with vodka each time it starts running too low.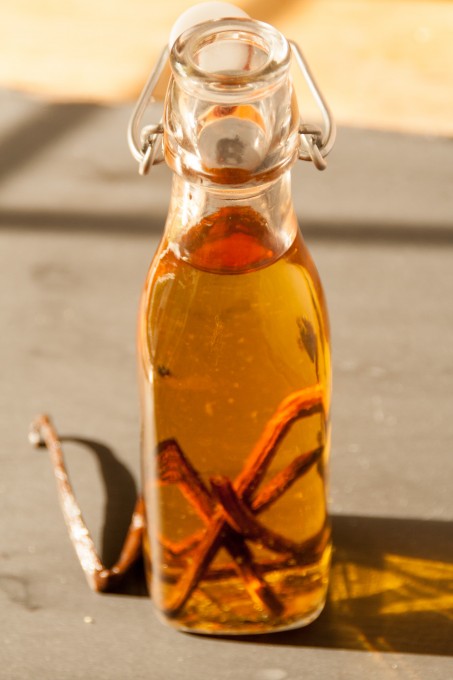 Vanilla Extract
2014-03-03 19:26:06
Ingredients
3-4 used vanilla beans
vodka, rum or bourbon
Instructions
Fill a very clean glass bottle with vodka, rum or bourbon. Make sure the bottle has a tight fitting lid. It's important that this bottle is sterile, otherwise tastes from previous foods could contaminate your vanilla.
If you are using used vanilla beans, rinse off the beans and place them in the alcohol.
If you are using new vanilla beans, slit the beans lengthwise down the center then place them in the alcohol.
Place your bottle in a cupboard for at least 3 weeks. The liquid will now smell like vanilla and be a deep brown color.
At this point, you can pour the vanilla extract into a new bottle and start a new bottle of extract with the used beans.
Alternatively, you can keep topping up your working bottle up with fresh alcohol when the liquid falls below the tops of the beans. Replace the vanilla beans every 3-6 months to ensure the vanilla flavor remains strong.
Adapted from The Homemade Pantry by Alana Chernila
Adapted from The Homemade Pantry by Alana Chernila
Cookies or Biscuits? http://www.cookiesorbiscuits.com/