I can't believe it's only 3 weeks until Easter! Bunnies, Easter eggs, Chocolate and Marshmallow are the stars of the month – at least for the kids and the kids at heart. The shops have been full of Easter merchandise for weeks, but I've been faithfully averting my eyes. Don't get me wrong, I love Easter, with all of it's symbolism and celebration. But I want it to be spring before I start planning. But now spring has sprung (yes – my tulips are about to bloom!) and I'm ready for Marshmallow Easter Eggs.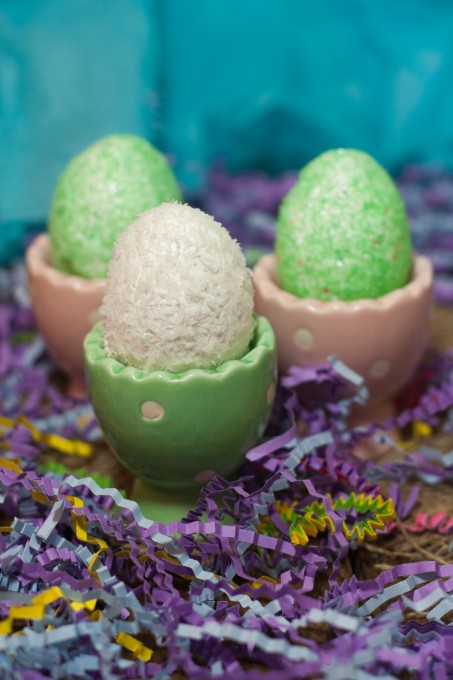 I've made marshmallow before, but until this week I have not made Marshmallow Easter Eggs. As a child, Mum used to make marshmallow bunnies. After looking online, I could only find the molds in Australia. Whilst I would have loved to recreate some childhood memories, the shipping was just too much. So I thought, surely a plastic Easter Egg would work. Yes – the plastic kind that overflow in the shops at this time of year and you fill with coins or candies for Easter Egg hunts.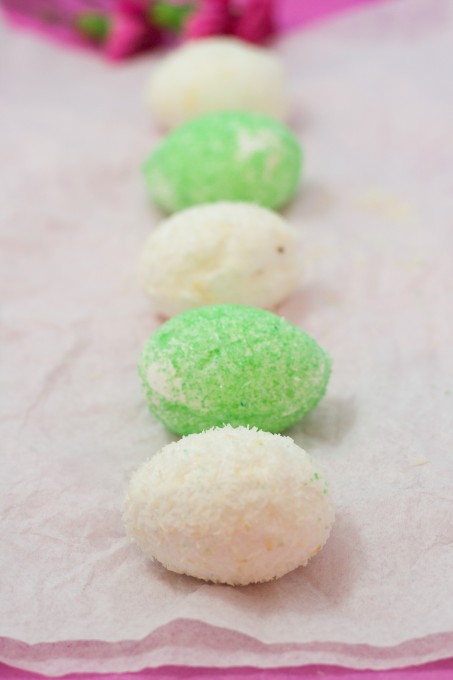 This marshmallow recipe is how my mom taught me to make it. It uses proper candy making techniques – that is bringing a sugar syrup to a boil, then continuing to boil the syrup until it reaches a certain temperature. In the case of this marshmallow, it is 240°F.
The first step is to place the gelatin and cold water in a large electric mixing bowl. It will just rest until the syrup is completed.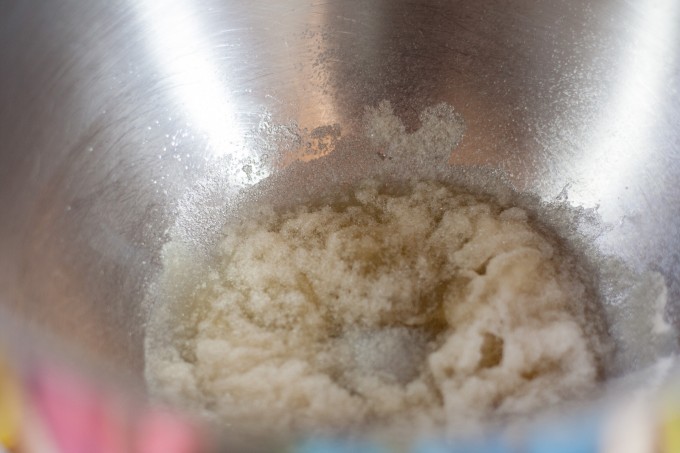 The next step is to place the water and sugar in a medium sized saucepan, and stirring it over low heat until the sugar dissolves. During this step, I use a pastry brush dipped in hot water to brush down the sides of the saucepan. This ensures that all the sugar crystals are in the pan and dissolved. Once the sugar has dissolved, you increase the temperature to medium and bring the syrup to a boil until a candy thermometer reaches 240°F.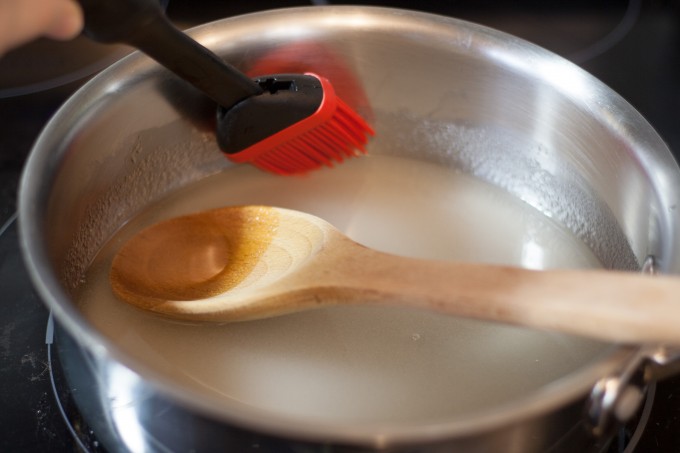 Next the syrup is going to be added to the gelatin. Turn on the mixer and slowly tip the syrup into the large bowl with the gelatin.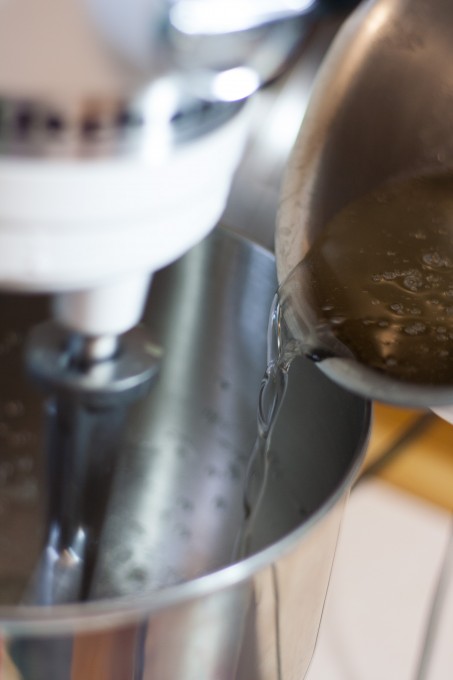 Increase the speed to high and mix until the marshmallow is thick and white. This will take about 10 minutes. Mix in the vanilla, plus any other flavorings or colors if desired. You might like to try peppermint marshmallow, in which case you could add 1/2 teaspoon of peppermint extract and a few drops of green coloring.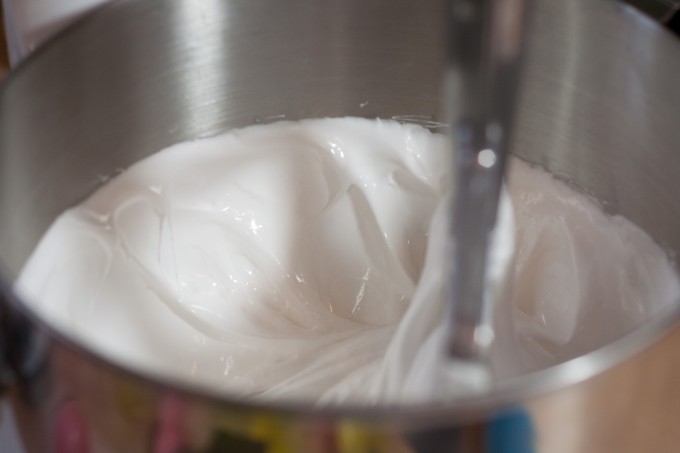 Using a greased spoon, fill the molds with marshmallow then join. A warning: this is very messy and the marshmallow is starting to set. Work quickly and ignore the mess to avoid the marshmallow setting before you are finished.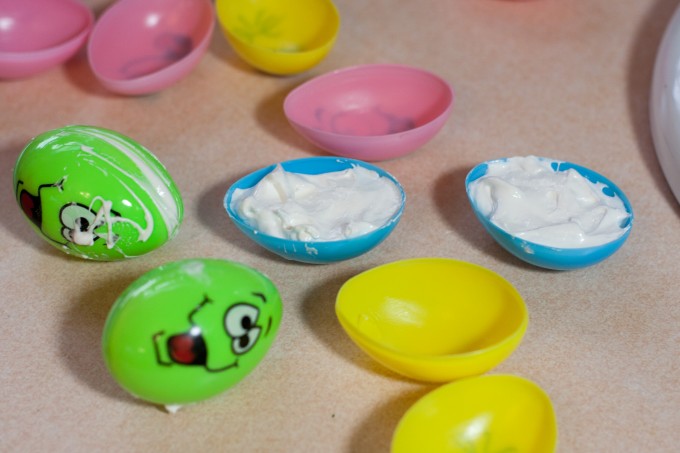 The marshmallow will set quickly at room temperature. After about 20-30 minutes remove the molds. Coat the marshmallow in colored sugar or toasted coconut.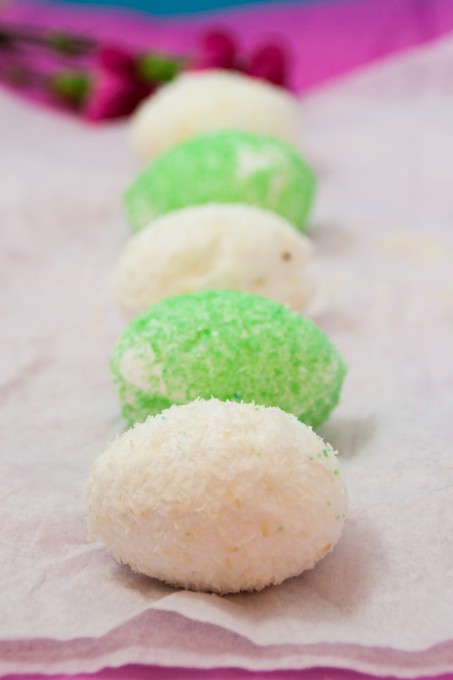 Marshmallow will stay fresh for about 1 week in an airtight container. Fresh marshmallow is soft and sweet, but holds itself like store bought marshmallow. We find it hilarious that as the marshmallow starts to get old, it starts to taste more like store bought marshmallow. That says a lot about how long store bought marshmallow has been sitting around!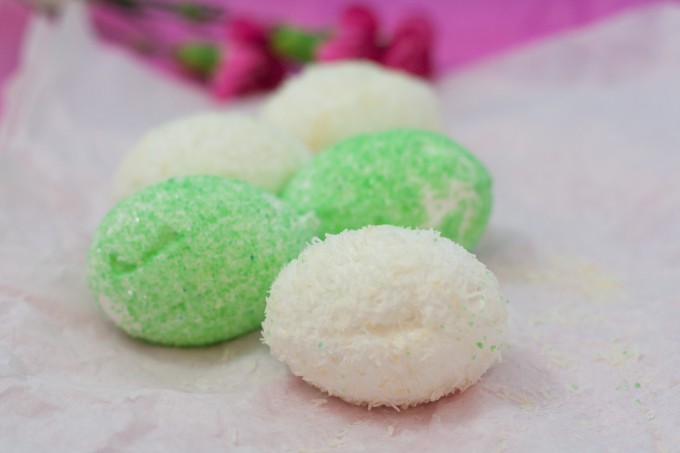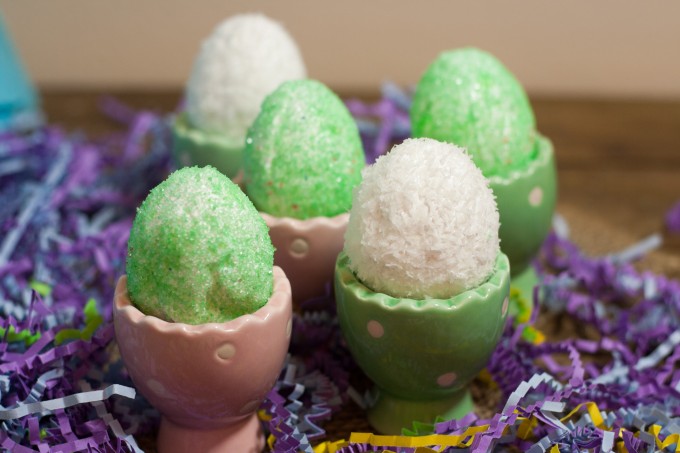 Perhaps you might like to try a different mold for Easter? I'd love to know if you do. If you would like to be more traditional, you can simply use a greased an 8″ square cake pan. Once the marshmallow is set you cut the marshmallow into squares and roll it in the toasted coconut.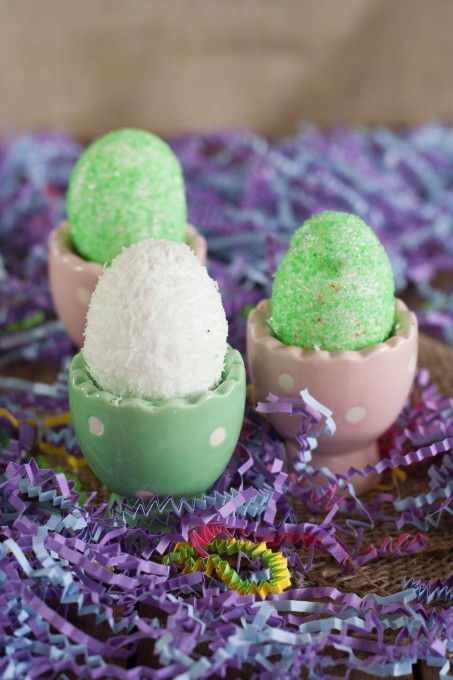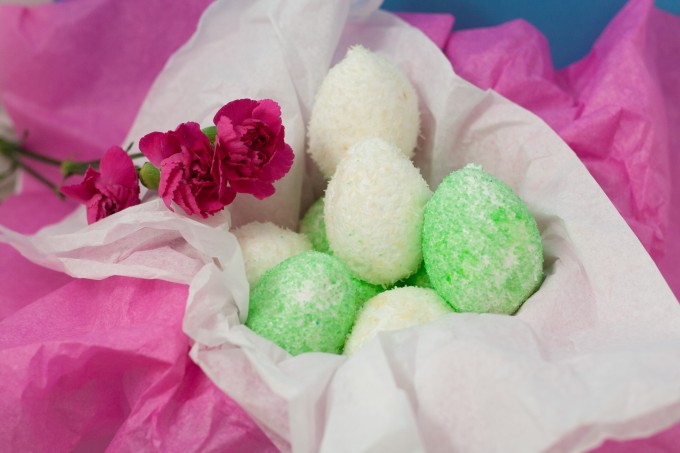 Marshmallow Easter Eggs
2014-03-28 23:00:03
Ingredients
1-2 tablespoons coconut oil for greasing
1 1/2 tablespoons unflavored gelatin (2 satchels)
5 tablespoons cold water
pinch of salt
1 1/2 cups sugar
7 tablespoons hot water
1 teaspoon vanilla extract
coloring and flavors as desired
3/4 cup unsweetened, shredded coconut (toasted)
Instructions
Grease 12-14 Easter egg molds with coconut oil.
Combine the gelatin and cold water in an electric mixer bowl. Add a pinch of salt. Allow the gelatin and water to sit until the syrup is ready.
Place the sugar and hot water in a medium saucepan and stir over low heat until the sugar is dissolved, about 7-8 minutes. Use a pastry brush dipped in hot water to wash the sides of the saucepan, removing any sugar crystals.
Once the sugar has dissolved, increase the heat to medium and bring the syrup to a boil, until a candy thermometer reaches 240 degrees F, about 8 minutes.
Turn on the mixer, with the gelatin, to a medium-low setting, and slowly pour in the syrup.
Increase the speed to high and beat until the mixture is thick and white, about 10 minutes.
Decrease the speed and mix in the vanilla and coloring and flavorings such as peppermint and green coloring.
Using a greased spoon, fill each mold with marshmallow. Join the eggs together then allow the marshmallow to set at room temperature.
Remove the mold after 20-30 minutes and roll the marshmallow eggs in colored sugar or toasted coconut. (To toast coconut, place coconut on a tray under a broiler. Broil until the coconut starts to turn brown. This will only take 1-2 minutes)
Cookies or Biscuits? http://www.cookiesorbiscuits.com/