When I think about cake, the classic Yellow Cake is what comes to mind. It's light and moist and topped with chocolate frosting. This recipe comes from my mum, who taught it to many home economic students in the 1960's. I'm sure it's been around for much longer than that! It was probably one of the first cakes I learned to make. It's just one of those cakes that you need to have in your repertoire of baked goods.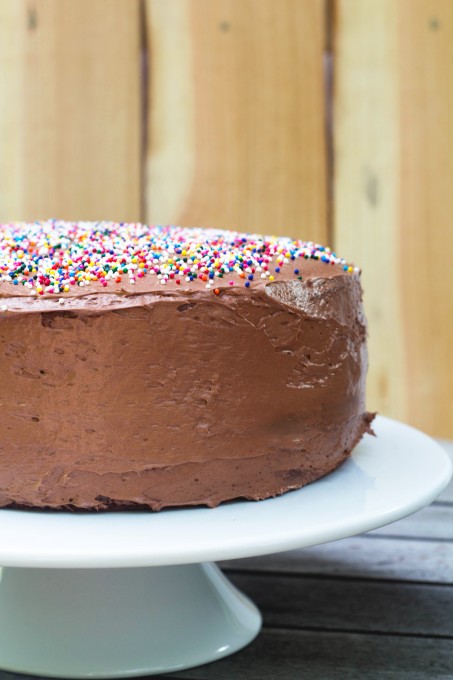 It's fantastic base cake for birthday cakes. I've used this recipe many times over the years to make piano cakes, bunny cakes, number cakes and just regular round cakes with frosting and sprinkles. (For my older Australian Readers – yes they all came from the
Australian Women's Weekly Childrens Birthday Cake Book
)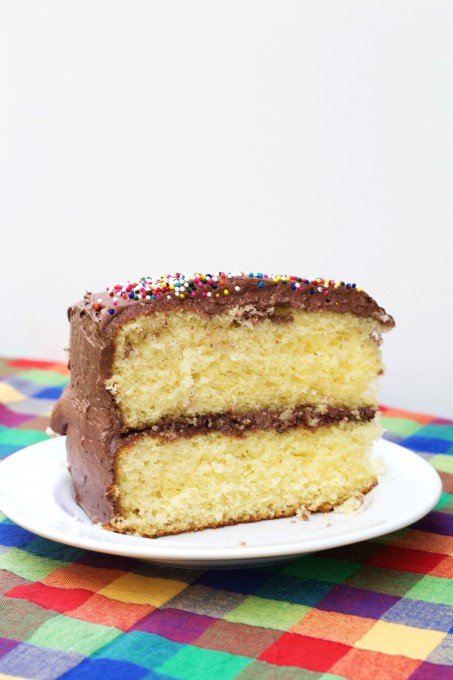 I was looking through some photos of me as a child, and I spotted this photo of me and my candy shop cake. The sad look on my face was probably because the canopy over the cake had just caught on fire and collapsed! Those pesky candles and material didn't make a good combination. Ah – what fun memories. But I see a little chunk of cake showing at the bottom – and sure enough it looks yellow. I'm thinking that this yellow cake recipe was probably used 30 years ago. Anything that is still being made all these years later has got to be good!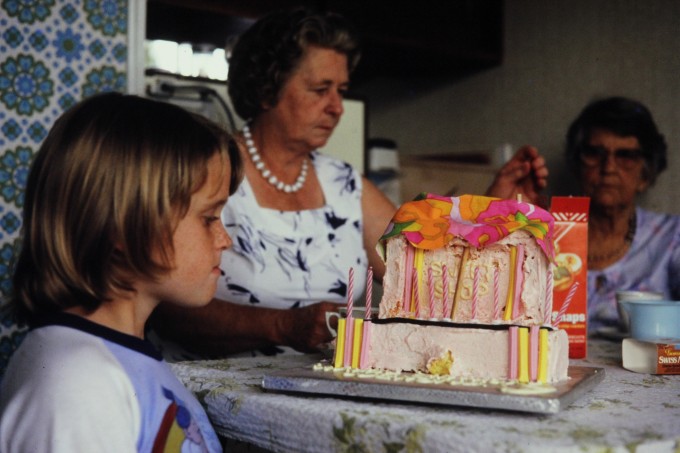 Yellow Cake gets is color from egg yolks. It's a great cake to make if you've just made something requiring only egg whites.
Yellow Cake
2014-05-05 23:17:01
Ingredients
8 oz butter (2 sticks)
1 1/2 cups sugar
6 egg yolks
3 cups plain flour
5 teaspoons baking powder
1 teaspoon salt
2 cups milk
Instructions
Preheat the oven to 350° F (180° C) and grease two round cake pans.
Cream the butter and sugar, by beating on a medium speed for 2-3 minutes.
Add the egg yolks, one at a time, mixing thoroughly between each yolk.
In a medium bowl, combine the flour, baking powder and salt.
Slowly add the flour and milk, by adding about ¼ of each and mixing thoroughly before adding the next quarter.
Bake in the oven for approximately 35-40 minutes, or until a toothpick comes out clean.
Notes
This recipe makes 2 round cakes
Cookies or Biscuits? http://www.cookiesorbiscuits.com/
If you need a recipe that uses egg whites you might like the following posts:
If you need a recipe for Chocolate Frosting, you might like this post: