September is a busy month around here. Getting back into the routine of school, activities and work means that having something simple ready for breakfast is always a bonus. These Chocolate Chip Waffles are just the thing for busy mornings. I made this batch of waffles last night, after the kids went to bed, then popped them in the freezer. This morning, my children were thrilled to find waffles for breakfast – especially ones with chocolate!
And I got to feel like an Australian by having a waffle for dessert! I had set this up for a photo and couldn't see it go to waste. I was doing my thing for the environment, right? At least that's the excuse I will keep to.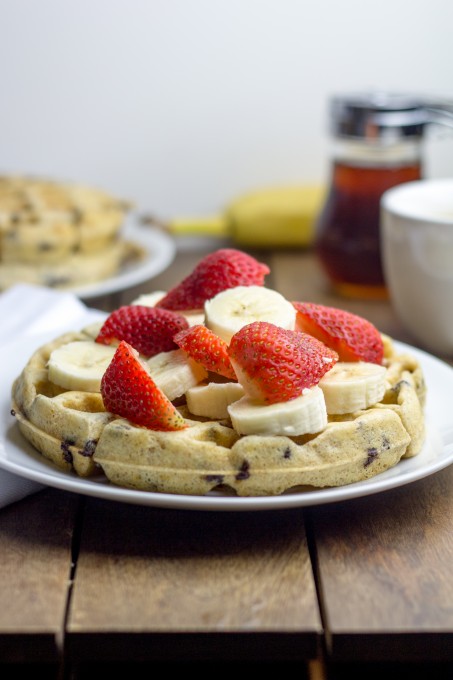 I love serving fruit with my waffles – and the combination of banana and strawberries with the chocolate just hit the right spot with me. Yum! I could imagine some strawberries drizzled with chocolate sauce would make an amazing dessert waffle!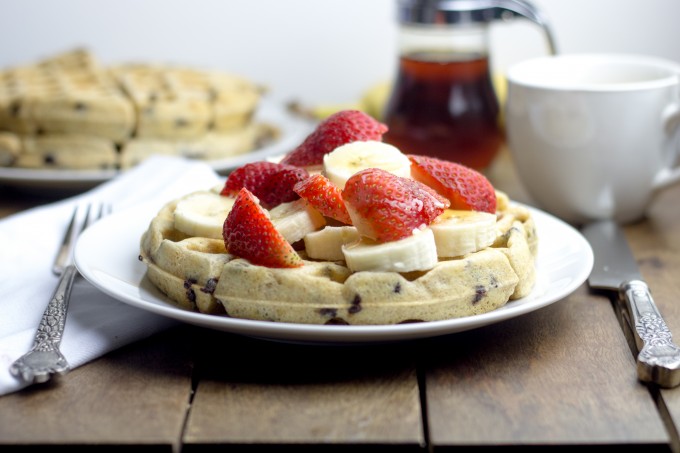 This recipe is a variation upon my favorite waffle recipe given to me by my best friend. It made 6 large circular waffles. The amount it makes for you will depend on the size of your waffle iron.
Chocolate Chip Waffles
2014-09-24 23:04:22
Ingredients
3 eggs
1 1/2 cups buttermilk
1 teaspoon baking soda
1 cup all purpose flour
3/4 cup whole wheat flour
2 teaspoons baking powder
1/2 teaspoon salt
6 tablespoons butter, melted
2/3 cup mini semi-sweet chocolate chips
Instructions
Heat and grease a waffle iron.
Beat the eggs and buttermilk. Add the baking soda, flour, baking powder, salt, melted butter and chocolate chips. Stir until the mixture is just blended.
Pour approximately ½ cup of mixture onto the waffle iron. (The amount may need to be adjusted according to the size of the waffle iron)
Cook for two-three minutes, or according to the directions on your waffle iron.
Serve with maple syrup and fruit or your favorite toppings.
Cookies or Biscuits? http://www.cookiesorbiscuits.com/