Gluten Free Oats came onto the market a few years ago, and opened up many new options for those who are gluten intolerant. However, if you are like the love of my life, even gluten free oats make you feel sick and if that happens, sadly granola is off limits. If this happens to you too and you are craving the crunchy, sweet taste of granola, this recipe is a wonderful alternative.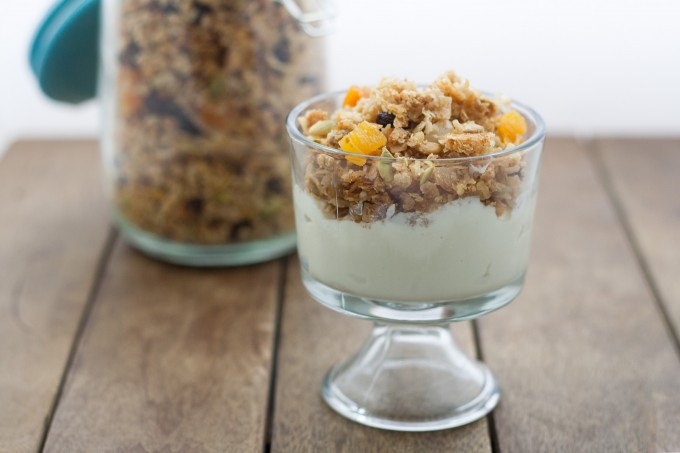 Oats are what give granola that crunch factor, but as this was off limits, a replacement was needed. I ended up deciding on Rice Flakes and Quinoa Flakes. My love had tasted a muesli in Australia the last time we visited, and it was based around rice flakes. I came home full of enthusiasm to make my own, only to find I couldn't find rice flakes at the supermarkets. After much procrastination (should I mention it's been nearly two years since we lasted visited our families – yes I've procrastinated that long!) I decided to order some Rice Flakes
online. Rice flakes are different from the breakfast cereal called Sweetened Rice Flakes. The only ingredient in rice flakes is … brown rice flakes.
This granola is made the same way as any homemade granola. Oil and sweeteners are heated and mixed together then poured over the dry ingredients. The granola is then baked in an oven at a low temperature. The only difference is that this recipe has no oats.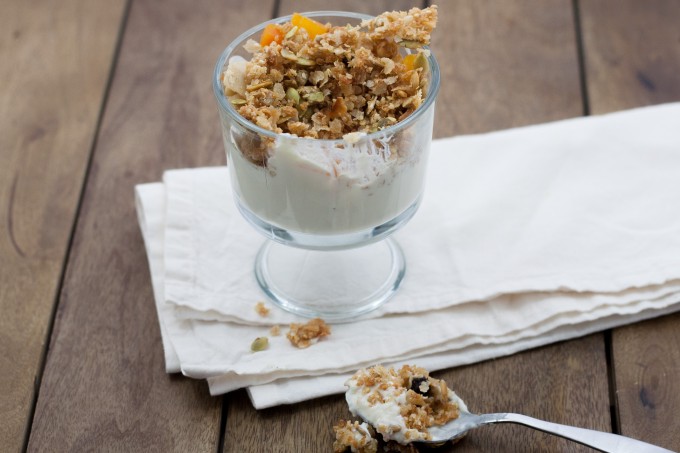 Granola can be stored in an airtight container for up to 1 month. But it will probably disappear before then!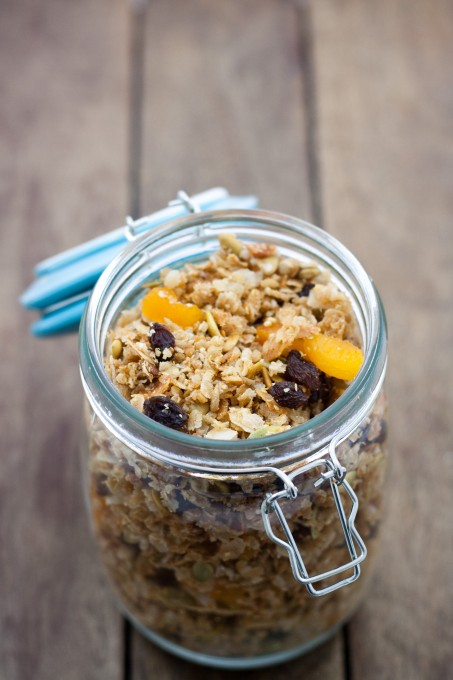 My daughter loves to eat this granola with yogurt. I'm happy just eating it by the handful, especially if I get some of those apricots in that hand.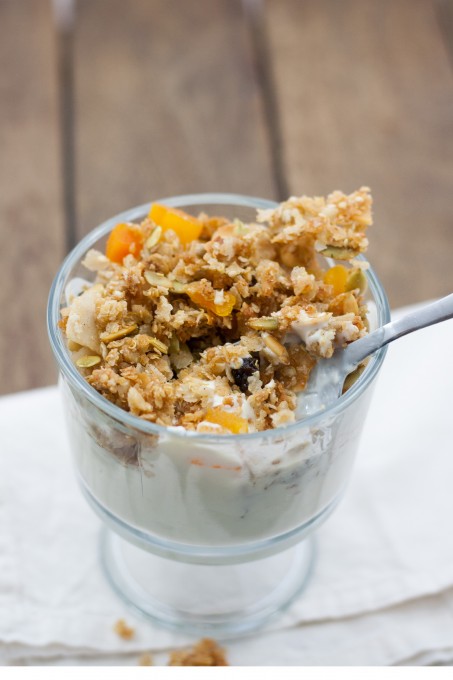 It turns out that my love doesn't really like granola as it's too sweet for him. What he really wanted was muesli, so when the granola is gone I'm going to be adapting this recipe to reduce the sugar and make a muesli. Stay tuned!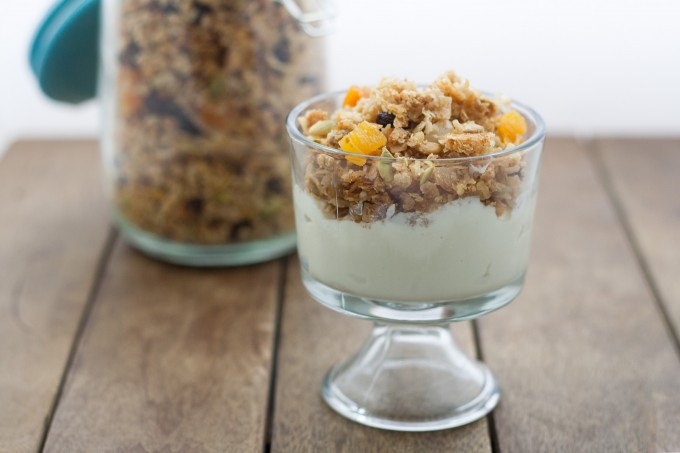 Gluten Free, Oat Free Granola
2014-03-23 23:29:21
Ingredients
2 cup rice flakes
1 cup quinoa flakes
1/4 cup sunflower seeds
1/2 cup pumpkin seeds
1 cup unsweetened coconut flakes, crushed into smaller pieces
1/2 teaspoon ground cinnamon
4 tablespoons coconut oil
1/3 cup maple syrup
1 tablespoon honey
1/2 teaspoon vanilla extract
1/2 cup raisins
1/3 cup dried apricots
Instructions
Preheat the oven to 300° F and line two large cookie sheets with parchment paper.
Combine the rice flakes, quinoa flakes, sunflower seeds, pumpkin seeds, coconut flakes and cinnamon in a large bowl.
In a small saucepan, melt the coconut oil over low heat. Add the maple syrup, honey and vanilla to the saucepan and stir to combine.
Pour the liquid over the dry ingredients and stir until all the ingredients are coated with the syrup.
Spread the granola thinly and evenly on each of cookie sheets. Place the cookie sheets in the oven.
After 10 minutes, toss the granola to ensure even cooking. Cook for another 10 minutes, or until the granola is a light golden color.
Remove the cookie sheets from the oven. Sprinkle the raisins and apricots over the hot granola. Allow the granola to cool on the cookie sheets.
When the granola is cool, store in an airtight container.
Cookies or Biscuits? http://www.cookiesorbiscuits.com/